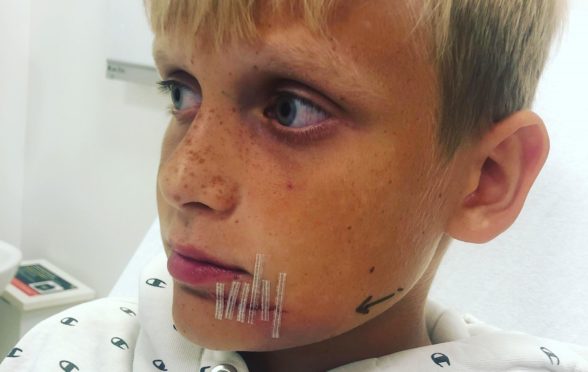 The family of a boy who was knocked unconscious during an incident at an Aberdeenshire harbour are "still in shock" at what happened.
Andrew Adam, 12, had been jumping the small distance from the pier at Gourdon Harbour into the water, when a friend accidentally landed on his head.
The boys "kept their cool" and co-ordinated their own rescue attempt while a coastguard helicopter from Inverness and lifeboats from Montrose and Stonehaven also scrambled to the scene.
Mother Helen Esmer was at home in Inverbervie when she found out her son had been involved in the accident, which took place around 5.20pm.
She said: "One of the boys had been getting changed when they realised something was wrong – he dove into the water in his boxers, bless him.
"A man was walking past and helped the boys lift him up the ladder and onto the harbour."
Andrew has now had surgery on his face – where he had an inch-wide hole in his cheek as a result of the accident.
Mrs Esmer added: "I was taken aback at how quickly the lifeboats and the helicopter launched – it's humbling to know this help is at hand.
"I am so proud of all the  boys – for 12-year-old boys they kept their heads screwed on and stayed calm until help had arrived.
"I can't thank everyone enough – there could have been a very different outcome to this story.
"It was an unlucky lapse in concentration that caused this – I wouldn't call it tombstoning due to the small height the boys were jumping from.
"I am worried people will think the boys were being really reckless – they weren't.
"They're usually really careful and tend to have a spotter who is always at the side."
Nevertheless, coastguard teams have issued a stark warning in the wake of the incident.
Coastguard Gordon Barton said: "Jumping off of harbour walls and other structures into water can be really dangerous.
"What might have been a deep pool can become a shallow puddle just a few hours later and you do not know what else is below the water."