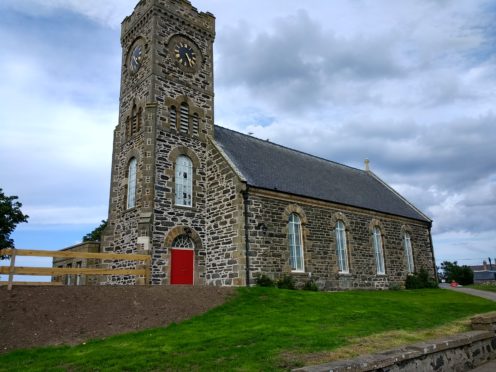 A north-east place of worship will be officially opened this weekend after eight years of hard work.
The old East Kirk has undergone a "spectacular" renovation to become the Portsoy Church Centre.
The project has cost £650,000 and been made possible thanks to a significant fundraising effort.
It is hoped the building will become the heart of the local congregation once more and provide a major new meeting place for the town.
Three days of celebrations will begin on Friday with a service of rededication ahead of a weekend of music and thanksgiving.
Funding from the North Aberdeenshire Leader Fund, the Heritage Lottery Fund and Historic Environment Scotland has enabled the old East Kirk, with its famous clock tower, to be transformed.
The interior has been stripped and modernised and the exterior repaired, while all manner of new facilities have been added
It now boasts underfloor hearing and insulation, while a new extension to the rear has enabled the addition of a modern kitchen, enlarged meeting room and new toilets.
The meeting room features a new exhibition chronicling the history of all Portsoy's churches and the development of Christianity in the area.
It is hoped the exhibition will prove an additional visitor attraction for the town.
Ian Whewell property convener for the Portsoy Church Centre, is excitedly awaiting the opening celebrations.
He said: "It took slightly more time that we hoped but we're very pleased with the results.
"It has all been on paper for so long and so it it great to see it fully transformed. It looks quite spectacular.
"We have started using the building ahead of the official opening and everyone who has come to have a look has been blown away by what we've managed to achieve.
"They have been very impressed and we are very proud."
Celebrations for the official opening begin on Friday evening with a rededication service followed by a musical evening on Saturday featuring Raymond Wilson on the new organ, the 75 Club singers and members of Portsoy Pipe Band.
A service of thanksgiving on Sunday will conclude the celebrations.
After the opening, the normal groups of the church will resume, including the Tuesday morning Coffee and Company and the Friday morning Mum's group.
Mr Whewell said: "We've got lots of bookings for coffee mornings, soup and sweets and two theatre productions already.
"Although it's our church it's also a community asset."
It is hoped the centre will fill the long-standing demand for a community space with catering facilities in the town – and one that has the capability of hosting professional caterers.
To use the centre, call Mr Whewell on 01261 843125 or email ian.whewell@btinternet.com.