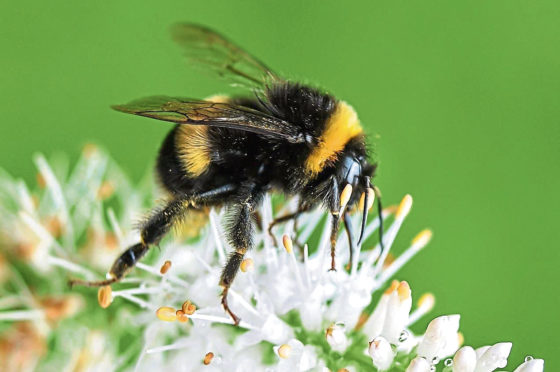 Aberdeen City Council is clamping down on unauthorised beekeeping at allotments amid fears that the animals could "swarm" into nearby homes if not properly looked after.
The local authority has sent a letter out to allotment holders throughout the city warning that anyone found beekeeping on allotment sites without the necessary permission could have their lease terminated.
There will now be a limited number of sites available, and new beekeepers will have to possess a certain level of experience before permission will be granted to keep the creatures.
The applicants must also have suitable public liability insurance cover.
Allotment holders who have been keeping bees without permission have been advised to contact the council as soon as possible, and officers will assess how suitable their patch is for the hobby.
A concerned allotment keeper at Dyce last night criticised the move, but local beekeepers have said it is important that the animals are "responsibly" looked after.
The Dyce woman said: "This is shocking. Surely we should be doing everything we can to help sustain our native bees.
"I do not keep bees myself, but I am more than aware that my crop would not be as bountiful as it has been this year had there not been a bees there to help it along. This is very short-sighted of Aberdeen City Council."
Brian Gall, who runs Cove Honey Bees, said that allowing people who aren't trained to tend the creatures could create a risk to the public.
He said:  "Swarming can be quite a pest. If someone isn't trained properly then the bees can swarm and go into people's houses.
"I can see where the council is coming from, but can also see where the allotment keepers are coming from."
Chairman of the Aberdeen and District Beekeepers Association, Mike Watson, added: "We do support people keeping bees in allotments but only if it's done properly, competently and with the correct insurance.
"It's good for beekeeping that there are bees in allotments. but we want people to keep bees responsibly and if that's what the council is trying to do then that's good."