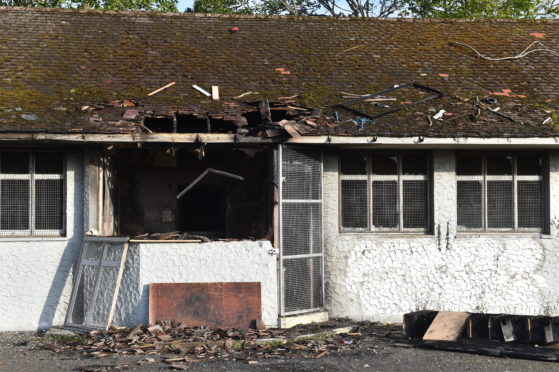 A community is calling for action to make a fire-hit bowling club safe – by either demolishing it or bringing it back into use.
Firefighters were called to former Kaimhill Outdoors Sports Centre in Garthdee at about 8pm on Wednesday, and worked for more than an hour to bring the flames under control.
A section of the roof is now missing and the walls blackened by the flames, while charred wood and broken glass could be seen littering the ground around the building.
It is not the first time fire crews have been sent to the centre in Ramsay Gardens in recent times.
Now fed-up locals are calling for action – and want it either to be demolished or made safe and brought back to life.
John Robertson, 66, retired said: "I think that when it was finished being used years ago, it should have been taken care of then. It should have been flattened and cleaned until they decided what they were going to do.
"Every building in Aberdeen that's derelict vandals want to torch – burn everything and ruin everything."
Carer Sharon Brown, 56, said she would prefer it was brought back into use.
"It's a shame they never kept it a bowling green in the first place," she said. "People used to walk their dogs round the outside and it was always kept nice, so I don't know why they didn't keep it up.
"They should put it back to what it was before, that would be the best thing."
She was echoed by Bill Cumming, 79, who said: "I'd like to see it getting made back into a bowling area, with the age of the folk around."
Last night, Garthdee councillors agreed that action was needed.
Gordon Townson said: "Such a building can be an attraction to fire raising incidents and I'm sure a full investigation will be carried out by the police service.
"I would welcome a decision for the building to be demolished and the site cleared if the property is unsalvageable."
Councillor Ian Yuill said: "This fire is extremely worrying, especially if it turns out to have been started deliberately.
"The former bowling club building sadly has been lying empty and derelict for some time now. This fire will have made its condition even worse. If the building is unsafe then the safest thing to do now would be to demolish it."