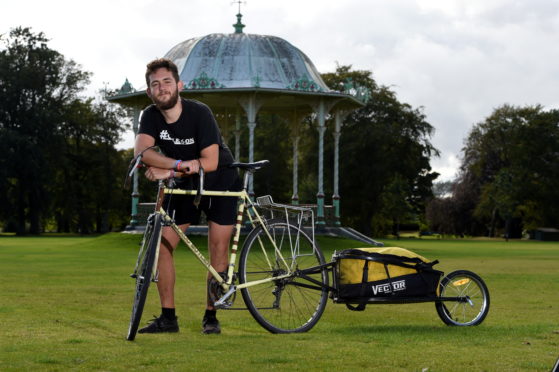 A cyclist has hailed the support of people in the north and north-east for helping him pedal 5,000 miles for charity.
Lewis Stephen set himself the challenge of cycling 5,000 miles around the coast in aid of mental health charity Campaign Against Living Miserably (Calm), a cause close to his heart.
And the 23-year-old yesterday revealed he had been overwhelmed by the support he had received as he made his way along the NC500 and down towards Aberdeenshire.
Originally, he was cycling 50 miles each day and living on £5 a day relying on the kindness of strangers. But he now challenged himself to live on £20 for 20 days, which has captured supporters' imagination with offers of army ration packs and free accommodation flooding in.
Mr Stephen admitted it had all helped as he tackled one of the difficult legs of the journey so far – the 84 miles from Forres to Aberdeen.
He said: "The terrain on the west coast of Scotland was definitely challenging, but the varied terrain helped to keep my mind active. The journey to Aberdeen just felt like a straight road which was actually harder for me.
"The journey was difficult to start with but I've been doing it for so long now it's just another day on my bike. It has definitely improved my fitness."
Mr Stephen set off from Sensley and expects to take five-and-a-half months to complete the journey.
He is 3,200 miles in so far, and will leave the Granite City for Dundee today.
He said the "beautiful" scenery was helping him stay on track, along with the determination to raise as much as he can for Calm.
"I've had close friends whose family members have taken their lives due to problems that arise through no fault of their own," Mr Stephen, from Epsom, Surrey, said.
"I've experienced the same emotions whilst coping with low level addiction and I feel that by looking for alternate ways of dealing with problems there are ways to overcome this issue. Calm for me personally is the perfect charity to make the first steps to that change."
The cyclist has been recording his progress by posting videos on social media, and is delighted to have already raised £1,900.
He added: "The support I've received has been absolutely incredible. I wasn't sure what to expect in terms of donations but I've been receiving a lot of recognition everywhere I've been so far.
"The best part about this whole experience for me has been able to raise awareness for such a fantastic charity."
To support Mr Stephen, visit www.justgiving.com/fundraising/thetouristdog