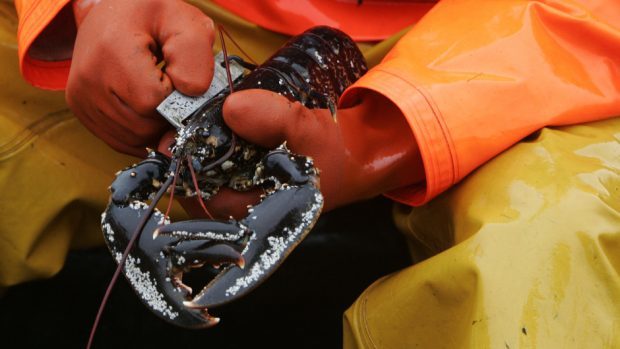 Fishing chiefs have demanded tighter regulation on the illegal landing of undersized shellfish after a skipper raised concerns about a catch at a north-east port.
David Lapage, skipper of the Angus John, is a crab fisherman and was "shocked" to see the box of young lobster which had been landed in Gardenstown.
Legally, the large shell on the back of the creatures has to be larger than 3.5 inches for them to be caught and sold and Mr Lapage believes the practice creates "a risk to future stock" as the creatures are being taken from the sea before they are old enough to reproduce.
His concerns were last night echoed by the Scottish Creel Fishermen's Federation (SCFF), who claimed the "unforgivable" situation is going largely ignored by industry regulators.
Mr Lapage brought the situation to light by sharing footage of him measuring a lobster catch at Gardenstown online.
He said: "This was a 25 kilogram box but 19.26 kilos of the lobster were undersized.
"It needs to be addressed but, by the sounds of it, there's more than one boat doing this.
"If those lobsters had been left to grow the box would probably have been 40 kilos, but as people can get between £12 and £13 per kilo they are just doing this out of greed.
"It seems these people are smart and land the fish on a Saturday when they know it won't be seen.
"This has definitely opened my eyes. It's horrendous people are getting away with this, as it's a risk to the future stock that we all rely on."
SCFF national co-ordinator, Alistair Sinclair, claimed the problem was widespread.
He said: "In Orkney, there's people selling understock shellfish at the back doors of restaurants, and I've heard of problems in Arbroath along with many other places – this is everywhere in Scotland.
"Here we have, from Mr Lapage, video proof of fishing which will have a direct impact on the livelihoods of other local fishermen.
"These unforgivable situations are going unnoticed."
The Scottish Government said that a range of new landing controls, designed to improve the management of Scotland's crab and lobster fisheries, was introduced by industry regulator Marine Scotland last year.
A spokesman said: "We take the protection of the marine environment seriously and any illegal activity is completely unacceptable.
"After being made aware of this video, Marine Scotland officers visited the premises where it was allegedly filmed and found that staff had identified the undersized lobsters and local fishing crews had already returned them to the sea.
"Marine Scotland takes all reports seriously and invests significant resources to ensure compliance in Scottish waters."