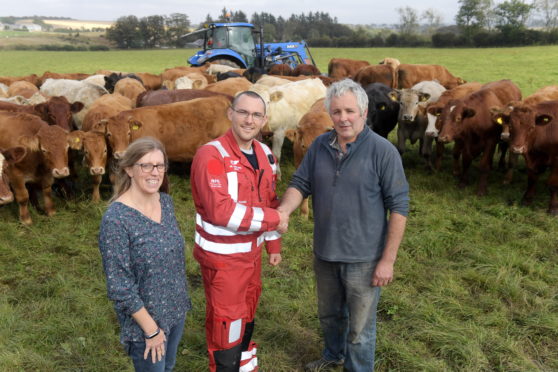 A farmer and his wife have raised nearly £2,000 for Scotland's Charity Air Ambulance after seeing firsthand how it saves lives.
Steven and Donna Donald decided to support the charity after a neighbour was hurt by a cow as he worked in a field earlier this year.
The 59-year-old was airlifted to hospital after being found in a field, where he had lain injured all night.
Mr Donald, who described his neighbour as a "very careful farmer", was with him when the SCAA arrived at the farm in Maud.
He said: "I was there with my neighbour when the air ambulance came, if it weren't for them he wouldn't be alive today.
"He'd been out in the field all night and his lungs had collapsed. Farming is a dangerous occupation but it was still really scary to see.
"He is on the road to recovery now and he's walking again, but he's not able to work."
Mr Donald and his wife celebrated their 25th wedding anniversary in July, and asked guests for donations to SCAA instead of presents.
"People donated whatever they could on the night," he said. "We didn't have a specific target we wanted to raise in mind but the more we were able to raise, the better.
"The air ambulance is a service nobody wants to need, but it's something that helps people everyday."
SCAA is currently fundraising to bring a second air ambulance into service, which will be stationed in Aberdeen from next year. About half of the £6million needed to cover the service has been raised so far.
The couple presented a cheque for £1,800 to volunteer and paramedic Ewan Littlejohn on Saturday.
Nick Harvey, director of fundraising and communications at SCAA, said: "This donation is extremely generous and hugely appreciated.
"These funds will help to save lives and we can't thank Donna and Steven enough for thinking of SCAA during their special anniversary celebrations.
"Steven has seen for himself the value of an air ambulance helicopter when his neighbour was in serious difficulties and our plans to launch the charity's second helicopter air ambulance in Aberdeen next spring will increase the capacity of this vital national service.
"We're really heartened and grateful to individuals, companies, groups and organisations in the north east for taking Helimed 79 to their hearts and working to help fund what will be a tremendous pre-hospital care resource for those in most need, both locally and across the whole of Scotland."