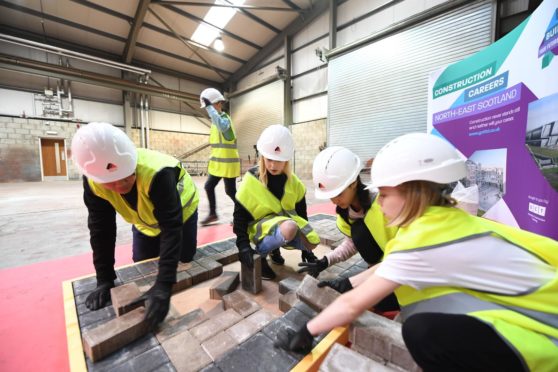 A hands-on competition has been launched to encourage young people from across the north-east to consider a career in construction.
Grampian Construction Training Group has invited every school in Aberdeen and Aberdeenshire to submit teams of youngsters who will be put through their paces at a variety of tasks.
Over the coming months, pupils will compete in challenges including a plumber obstacle course, mono-block paving and designing a "smart city" of the future, ahead of the final in January.
The first set of Build Your Future heats was held at Kirkwood Homes' head office in Aberdeenshire yesterday, with Meldrum Academy winning ahead of Alford and Banchory.
Jim Buchan, Grampian Construction Training chairman, said: "The purpose of this competition is to inspire pupils, to show them the full range of career opportunities available within construction and to give a feel for the incredible projects that they can go on to work on.
"We gathered feedback at the end of the day and one team said that after completing the challenge, every member was now considering a career in construction.
"We just can't ask for better than that."
Colin Crombie, Kirkwood Homes managing director, added: "Engaging with pupils at this important stage of their development is vital to the future development of the construction industry.
"We are extremely passionate about raising the profile of the industry as a career choice among pupils, parents and teachers."