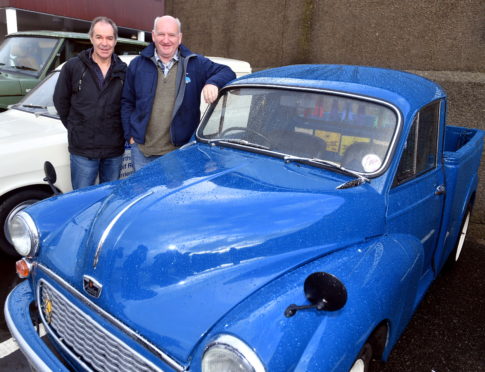 Motoring enthusiasts took took part in an annual charity road run this weekend.
Despite the rain, 58 vehicles of all shapes and sizes took part in the two-day East to West Commercial Vehicle Road Run.
After starting off in Fraserburgh on Saturday, the convoy travelled to Carrbridge where enthusiasts spent the night at the hotel before driving back.
Every year money made from the calendar sales and collection buckets is donated to the British Heart Foundation.
On Saturday, organisers handed over a cheque for £1,100 which was raised at the 2018 event.
Included in this year's procession was an Austin pickup, a 1973 AEC Mandator, an ERF LV, a Bedford TK, a Ford Thames and a Mini cab.
Organiser James Gray, of Gray and Adams, said: "Everything went fairly well. Obviously the rain had a bit to play with regards to the roads but there were no incidents.
"Everyone arrived where and when they were supposed to.
"This year we had 58 vehicles of various different models and ages.
"There was on chap who came from the English midlands name Roger Favel who hadn't been in years and decided to join us so that was good.
"Every year from the event we make a calendar and also have collection buckets and all of the money raised goes to the British Heart Foundation.
"This weekend we handed over a cheque for £1,100 from last year's event."