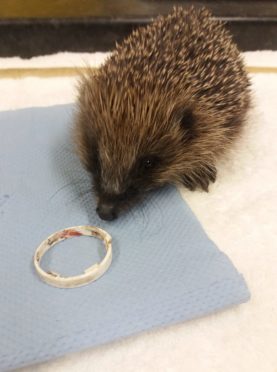 A hedgehog was found with a bottle cap ring lodged round its neck this week.
The anima was found in Stonehaven, and taken to the New Arc animal sanctuary near Ellon on Tuesday.
Vets managed to remove the tight plastic around its neck, and the hedgehog is now recovering at the centre.
Yesterday the team said the incident once again highlighted the dangers of plastic pollution.
In a Facebook post, they said: "We are always told about the harm of the plastic which holds beer cans together and to cut them up before throwing away, and over the years we have seen a fair share of animals stuck in one thing or another.
"This is a tiny bit of plastic that many people probably wouldn't even think of if they saw it on the ground, but it just goes to show how important it is to not only cut any loops of plastic before disposing of them, but to pick up even the tiniest bits of litter that you find, because you don't know who you might be saving."