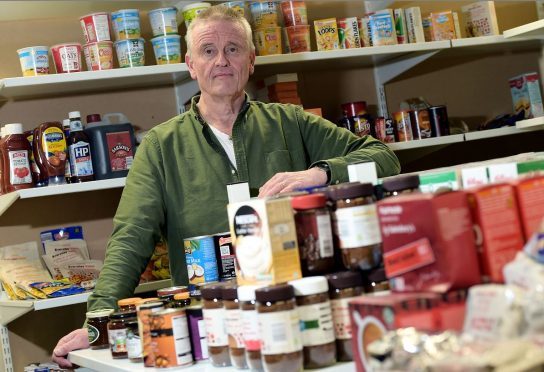 Desperate women are said to be resorting to prostitution on the streets of Aberdeen to make ends meet because of the crippling effect of universal credit.
Dave Simmers, the chief executive of Community Food Initiatives North East (Cfine), said support staff have encountered so-called "survival sex" workers in the area.
These women have blamed the controversial benefit system for their situation, and turned to the foodbank for help to feed their families.
"We became aware of this after police contacted us two or three months ago, telling us what they were being met with on the streets," Mr Simmers said.
"Anecdotally, women were identifying themselves as being there because of the benefit system.
"Officers asked for our assistance as we can give people advice but also access to the foodbank and a range of other services.
"A female member of our Support, Advice, Finance, Education (Safe) team is going out on police patrol speaking to the women and is distributing condoms to promote safe sex.
"We have not spoken to enough people affected to know whether it is solely universal credit driving them to make these undesirable choices.
"But there are very serious implications of this welfare reform and this is the worst manifestation of its impact."
The claims follow the publication of a report by the Westminster work and pensions committee last week demanding UK Government action over survival sex.
A number of women told MPs they had turned to sex work because their benefits were not enough to cover basic needs.
One mother-of-three, identified only as "K" was one of three woman to give evidence before the committee.
She told them: "The thought of going into debt and having no money is really frightening.
"I have children. I can't do that. I will sell my body.
"I want to tell this committee that there are a lot of girls out there just like me.
"We all need the extra money. With universal credit, we are all really struggling."
In response to the fears raised by the charity boss, a spokeswoman for the Department of Work and Pensions said: "We take all evidence presented to the committee very seriously and are determined to ensure no one finds themselves in this position.
"We are committed to providing a safety net for the most vulnerable in society and have made improvements to universal credit such as extending advances, removing waiting days and introducing housing benefit run on."
She added that the DWP would look at any specific cases of affected claimants, or those not getting the support that they need.
Most beneficiaries in Aberdeen and Aberdeenshire were switched over to the single benefit by October 31, 2018.
Mr Simmers had aired concerns about moving north-east claimants to universal credit, which combined six payments into one and was intended to streamline the process.
But those moving to it faced weeks of delays before being paid and, Mr Simmers added, were left in debt when the UK Government introduced loans to bridge the gap.
The Cfine head said the problems were all too predictable and had led to a "tough" year for his charity, which has been forced to find more support staff to keep up with demand.
"Our level of foodbank usage has gone up," Mr Simmers said.
"We have given out 18,000 food parcels since last October."