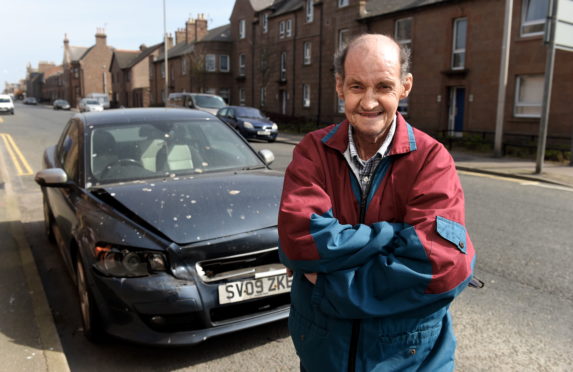 An investigation has been launched after an Aberdeenshire pensioner spent months complaining about a damaged Volvo which has been abandoned outside his home for more than nine months.
Eric Dean, who lives on King Street in Peterhead, feels he has been passed "from pillar to post" by Aberdeenshire Council and the police while trying to get the unsightly vehicle removed.
For the last few months the former soldier has contacted both bodies about the Volvo C30 – which has no road tax and no MOT certificate.
The 69-year-old, who suffers from arthritis, spoke out in April about the "eyesore".
Last night, he said: "It has been nine months now and nobody has done anything.
"I've spoken to the police and the council as it's got no MOT, no tax and no insurance.
"I don't think it's legally parked on the road if it has no tax – we pay tax to use the roads and it has been sitting there for this long without it.
"This is a main road through Peterhead and, instead of helping to do something, they're passing me back and forth from pillar to post.
"How long is it going to sit here? I don't know what to do.
"I've got arthritis and I have to park further from home or across the road as there's not space, but then it's dangerous for me.
"Someone apparently owns it but why isn't it outside their house instead?"
Now, a council spokesman has confirmed that an investigation has been launched into the matter.
He said: "We believe there to be a registered keeper for this vehicle and our investigations in conjunction with Police Scotland are continuing.
"Our roads service has also reported the lack of a valid MOT or road tax on the vehicle to the DVLA."
The Volvo has broken headlights, a crumpled bonnet, flat tyres and is now very dirty.
Mr Dean added: "The car is badly damaged and there's bits sticking out of it, but I've been told it's not a hazard.
"If I walked too close by accident and tore my leg on the bits sticking out then surely something would happen but it shouldn't have to come to that.
"It's an eyesore and I don't see how it can be allowed to stay there."