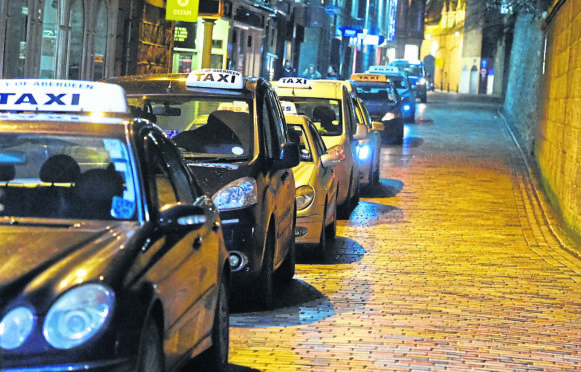 An 11th hour bit to stop an Aberdeen taxi fare hike was defeated today.
Granite City charges will rise 7% from January 29 following the decision of councillors on the licensing committee.
The committee met to rubber stamp the rise following a month-long consultation exercise.
The meeting was told there was just a single response when the public and trade were asked for their views.
Once the the rise has come into force, it will mean taxi fares in the city have risen 12% in just two years.
An appeal can still be lodged with the traffic commissioner against the new fare structure.
At the meeting, councillor Steve Delaney moved that the rise be kicked into the long grass – raising fears it could lead to fewer people taking cabs and deepening the decline of the trade.
He said: "I propose that we take no action.
"Such a significant increase in fares could lead to a reduction in taxis, so I can't support this at this time."
He was backed by councillor Philip Sellar who added that he saw "no justification" for the hike.
Committee convener John Reynolds, however, said that no members of the public had complained about the rise so it would have to go ahead.
The committee approved the fare rise by seven votes to two.