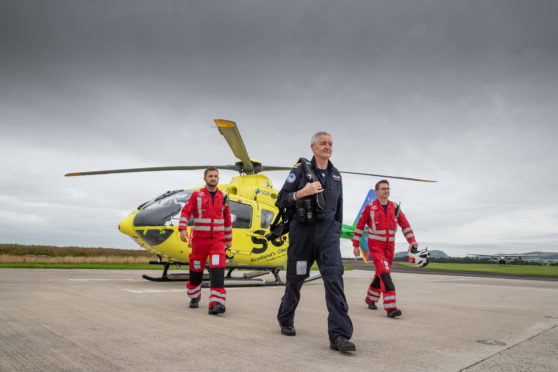 New figures have shone a light on the need for a new helimed to be based in Aberdeen after the charity behind the plans recorded a steep rise in call-outs.
Scotland's Charity Air Ambulance (SCAA) attended 47% more severe trauma cases last year, with nearly a third being road traffic collisions.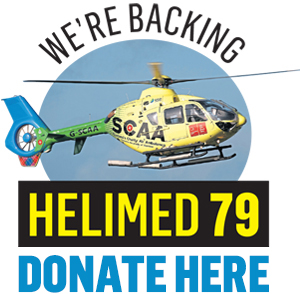 Currently, the organisation has a team of paramedics flying out of Perth airport but preparations are well under way for operations in Aberdeen.
The Perth-based crew rushed to 154 acute injury call-outs, with 64 involving car accidents.
They attended 352 life-threatening emergencies in 2019, an 8% increase on the previous year.
And, with hopes SCAA will have its new copter, Helimed 79, off the ground and helping patients in the north-east within two months, the benefit to the area around the charity's current base has been illustrated.
Nearly a quarter of the existing team's call-outs were in Tayside with Ninewells hospital in Dundee seeing the largest intake of SCAA patients.
In addition to the 64 road collisions, the crew also attended 59 cardiac-related emergencies, 16 strokes, 35 falls, 18 equestrian accidents, 16 industrial accidents – including agricultural – and six emergencies involving animals.
Already, the Highlands is responsible for the largest number of call-outs for the charity, while 62 responses involved air transfers from remote or island locations.
The new Aberdeen-based helicopter will reduce some of that northern workload for the Perth crew, and also tie-in with the government-funded helimeds in Inverness and Glasgow.
SCAA said its Perth-based Helimed 76 assisted in cases ranging from major multiple casualty trauma incidents to single patient illnesses in remote and rural locations.
Nick Harvey, director of fundraising and communications said: "2019 has proved another extremely busy year for the crew at SCAA and their hard work, expertise and commitment have saved many lives and benefited hundreds of others throughout Scotland.
"Our ability to respond quickly and effectively continues to prove a vital resource in the 999 response network and pre-hospital care chain of survival."
Patients helped by SCAA ranged from babies to the elderly and there was an increase in the number of infants being attended, from eight to 17.
A further 10 patients were children under the age of 12, while 14 were teenagers resulting in a 95% increase in the number of patients under the age of 18.
The helicopter crew's busiest month was August, with Fridays the busiest day.
The charity's paramedics also attended 55 emergencies by land in their rapid response car.
Dr Roland Armes, a clinical lead at the Aberdeen major trauma centre, said the numbers showed the need for the charity's plans for a helicopter in the Granite City.
He added: "The rise that SCAA has experienced is likely to be mirrored across the north-east as well; I think that is fair to say in our patch.
"And I think given the tendency for serious injuries in rural areas – particularly in collisions but also farming and industrial accidents in remote locations – we would all be very supportive of the case for a second SCAA aircraft based in Aberdeen."
---
Scotland's Charity Air Ambulance has made a huge impact since 2013, saving lives and preventing suffering. 
That is why the P&J campaigned successfully for SCAA's second helicopter to be based in our region. 
The countdown is now on for the aircraft – call sign Helimed 79 – to start flying missions from Aberdeen Airport. 
But this is an emergency service that relies entirely on donations. 
Each call-out costs about £2,500 and SCAA needs P&J readers to help hit its £6million target and get things off to a successful start. 
So please do anything you can to raise those funds and show that We're Backing Helimed 79. 
---
---
Ways to donate to SCAA
Website: www.scaa.org.uk/donate
Text: Text 'SCAA' and the amount to 70085
Phone: 03001231111
Cheques: Made payable to 'SCAA' or 'Scotland's Charity Air Ambulance' and sent to: Scotland's Charity Air Ambulance (SCAA), The Control Tower, Perth Airport, Scone, PH2 6PL