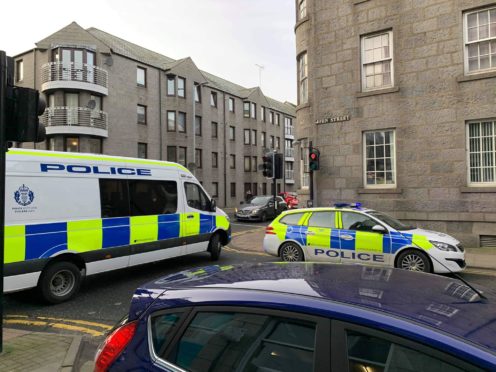 A man been arrested following a disturbance in the George Street area of Aberdeen.
Police swooped at about 1.45pm, after a man ran into an office shouting to staff to call 999.
Four police vehicles attended, and one officer was seen exiting a residential property with a riot shield.
A 42-year-old man was arrested.
The one-way street was closed for about half an hour until around 2.20pm.
Nobody was injured.
Samantha Tulloch, who works in nearby Rose Recruitment, said: "An individual came running into our office asking us to call the police claiming he was being chased before running back into the street."
There has been an increase in patrols in the George Street in recent months following a rising number of complaints from residents and the community council about drug dealers plying their trade.
In response to calls for more bobbies on the beat, police are undertaking twice-weekly patrols to clamp down on crime in George Street.
A police spokesman said: "Police were called to a disturbance on John Street in Abedeen shortly after 1.45pm on Friday, 10 January.
"A 42-year-old man has been arrested in connection with the incident and inquiries are ongoing.
"Nobody has been injured."