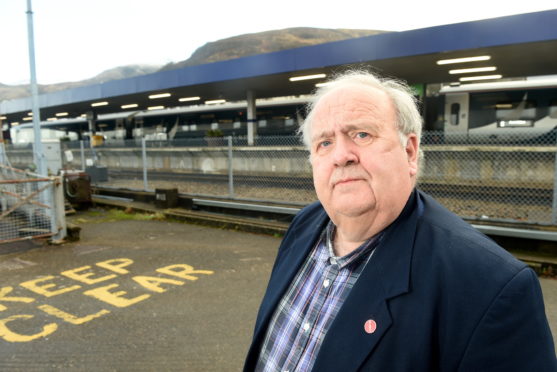 Passengers on the beleaguered Caledonian Sleeper service from London to Fort William were stranded in an unmanned station after the train broke down – then finished their journey on a leaky mini bus.
One passenger, who paid just under £300 for a return ticket, described it as "a nightmare journey," after arriving in Fort William on Wednesday.
An increase in complaints by passengers of the luxury service last year coincided with the introduction of its new £150million fleet, which has been plagued by teething problems.
The sleeper has the worst passenger complaint rate in the whole of the UK, according to independent regulator the Office of Rail and Road.
Data for the first quarter of last year revealed that the sleeper service received 206 complaints per every 100,000 journeys, up by 67% on the previous year.
Now following this latest incident, questions are being asked about how often problems are experienced on the service.
The 12 people aboard the train on Wednesday had to wait two-and-a-half hours after it lost power at Ardlui.
They were woken at 7am to be told the news and asked to make their way to the buffet car. But no breakfast, or indeed heating, was on offer.
Stuart Jarvis, aged 66, of Oxford said: "At 7am the host knocked my door to say the train had broken down.
"We had managed to pull in at a remote station, Ardlui. It took two-and-a-half hours for a mini bus to get to us. There was no heat on train. No hot drinks. The toilets were locked and we couldn't use them.
"I paid for a breakfast which I didn't get and no refund was offered.
"At Ardlui station I had to navigate 25 slippery steps and nearly fell twice. I was carrying two bags and no one helped me."
The misery continued when they boarded the bus to take them to Fort William. Mr Jarvis said: "The minibus ceiling was leaking water and my seat was soaking wet. I had to sit on it for one-and-a-half hours. There was nowhere else to sit. No apology from the company."
He added: "How many of these incidents happen? A nightmare journey which was very expensive.
"If it works it is a marvellous asset for tourism for Scotland. But it is not working. They have got to sort it and they have got to reply to people, sooner than within the 10 days they promise."
Graham Kelly, Serco's guest experience director for Caledonian Sleeper, said: "We are sorry to guests who were travelling on Tuesday evening's London to Fort William service and were involved in the delays that took place.
"The delay was caused by a locomotive failure and resulted in guests being transported to their destination from Ardlui via road replacement services."