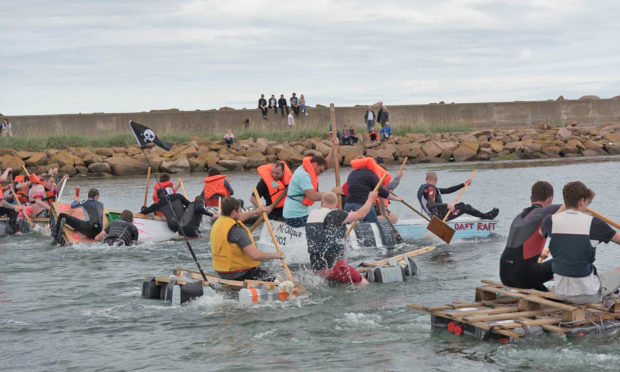 A group of fishermen have raised more than £30,000 towards harbour improvements – while also boosting community spirit.
Rosehearty Harbour and Inshore Fishermen's Association launched late in 2018, and has already exceeded expectations.
From a naked calendar to a plethora of events and competitions, the group has been delighted with the support of locals – which has also allowed them to give back to good causes.
As the main committee continued to drive forward fundraising plans for the harbour, a sub-group felt it was important to also give back to the community that was supporting the effort.
Member Staci-Ann Buchan said: "A lot of people in the community were asking about fun things to do here so we got involved and did a Christmas and New Year hamper and a casino night.
"We try to bring in a different group every time we do something different so everyone in the area can enjoy it – whether it is buttery mornings for the older members of our community, a race night for the younger people or a harbour day with lots for the kids.
"Harbour Day was something that used to be done years and years ago so we brought it back as something for everyone to enjoy and although it took a lot of work it was worth it."
RHIFA raised more than £5,500 from the fun day last summer, with the local RNLI, Rosehearty Community Boat Club and local first responders given a slice of the cash.
Members also took part in the Fraserburgh Lifeboat Boxing Day swim and raised £2,800, while Sandra Heddle sold fudge and took in £1,000.
But the fundraiser that caused the biggest splash was their raunchy fishermen calendar, photographed by Billy Watson of Broch Photo House.
Mrs Buchan said: "It started off as a joke that women do them, but it was brilliant we could involve the fishermen.
"We had ordered them and by the time they arrived with us they had almost sold out."
Some of the money raised from the calendars will be given to testicular cancer charity Cahonas Scotland.
Mrs Buchan added: "We can't wait for the future to see what more we can do."