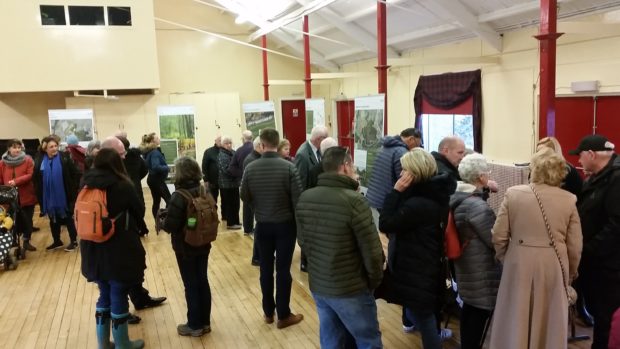 Residents in an Aberdeen suburb have raised concerns that a new 250-home development could negatively impact on wildlife, schools and roads.
Developer First Endeavour LLP showed off its designs for a major new site to the north of Peterculter at the local village hall yesterday.
Over the course of the public consultation, scores of residents attended to see the plans for themselves and speak to those behind the scheme.
If granted approval, the project would be a mix of affordable and council properties, with early estimated weekly rents of £86.80 for one-bedroom cottages or homes, and up to £104.88 weekly rents for four-bedroom properties.
It would border Bucklerburn Road and the B979 Malcolm Road.
A spokesman for the developer previously said Peterculter is "screaming out for affordable family homes".
However, during yesterday's event, several residents raised concerns about the effect the project could have.
One woman who lives in the area said: "For me, Peterculter is a village, and the size of this expansion there will just ruin that village atmosphere."
Another resident added: "We have concerns over what this will mean for our schools, and also about local roads – Malcolm Road and North Deeside Road are very busy already, even with the bypass now open."
Others at the consultation praised the project, and argued that more affordable homes would be a welcome addition to Peterculter.
A resident who backed the developers said: "It all looks very good, if it actually turns out as it's proposed.
"For young people especially, getting into an affordable home with a garden – not a flat – is really difficult, and this could be a solution to these out-of-this-world rental prices you see."
One man who said he has lived in the community for years said he fears the project could have a detrimental impact on ancient woodland.
However a spokesman for First Endeavour said they plan to maintain the woodland as a "major part of the project".
He added: "We're absolutely delighted to get this feedback, it's really valuable for us to get the thoughts of the community.
"Some people will have concerns about education, connectivity and other factors, so we will take the data from this consultation, work on that to try and find answers for these concerns, and then go forward."