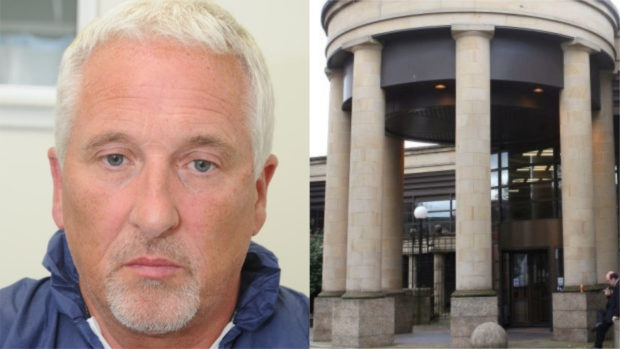 The family of a woman murdered by her husband in their own home have said their lives will "never be the same".
Retired police officer Keith Farquharson choked and smothered wife Alice in their bedroom in Angusfield Avenue last August.
During a five-day trial at the High Court in Glasgow, the jury heard Farquharson had previously had three affairs.
On the day she died, the court heard "kind and caring" Mrs Farquharson had asked her husband if he loved her and he snapped.
Farquharson, 60, had initially claimed he heard a noise in the shower and then found his wife of 33-years lying in the bedroom.
But as the trial went on, Farquharson admitted that had been untrue and he had lied because he was in a "state of shock".
He said that his wife had slapped him when he groaned in response to her asking if he loved her.
He said they then struggled, and put his hands over his wife's mouth to stop her screaming.
She died of "mechanical asphyxia" despite the efforts of paramedics who arrived at the Angusfield Avenue property after Farquharson dialled 999.
Following the guilty verdict, Detective Inspector Gary Winter said: "On the day of Alice's death, Keith Farquharson deceived paramedics, police officers his friends and, above all, his own family.
"Alice's children have had to sit through days of harrowing evidence in court over the last week, as well as having to give evidence themselves.  I can't begin to imagine how difficult this has been in addition to dealing with the devastating impact this incident has had on their family.
"Although the verdict can't change what happened, I hope the outcome gives them some sense of justice for their mum. Our thoughts remain with them, the rest of Alice's family, her friends and her colleagues as they continue to come to terms with her tragic loss."
In a statement, Mrs Farquharson's children, Joanna, Sarah and Kerr said: "To describe the loss of our mum, Alice, as a shock would be an understatement. She was an incredibly kind and caring person, with a great love for life and the people in it. She was always thinking of others and put everyone else before herself.
"She was not only kind and caring at home, but just as thoughtful at work as a pupil support assistant at Hazlehead Primary School. She was so fond of all the pupils in her care and also the staff whom she worked alongside, calling herself their 'work mum' and looking out for them all too.
"We miss her an incredible amount, as we know many others will. At times since our mum's death and as we spoke about what lay ahead of us, we would catch ourselves and ask 'can you believe that this has happened?' Our family will never be the same again and we cannot begin to describe the devastating impact this tragedy has had on us."
During the trial, Farquharson – who became a school bus driver after retiring from the police in 2010 –  admitted three affairs  and believed his wife did not "trust" him.
It also emerged – hours before she was killed – Mrs Farquharson searched online for "houses to bid for Shetland".
Farquharson repeatedly told the jury he did not mean to kill his wife and said: "It was totally accidental, I wish it never happened".
But advocate depute Alex Prentice QC, prosecuting, told him: "You compressed her neck and maintained pressure until she died".
Police originally did not originally treat the incident as murder until a post-mortem suggested foul play.
A pathologist concluded her neck had been compressed, and she had bruises on her face consistent with gripping.
After the verdict, Mr Prentice revealed Farquharson had been convicted in 1998 of a breach of the peace while serving in the former Grampian Police.
He told the court: "This is described as being of a sexualised nature and he was fined £500.
"It involved a work colleague and some form of writing, There were disciplinary proceedings which resulted in demotion for a period of time."
Media reports suggested Farquharson sent an offensive poem called Gasping For It to a then 28 year-old female officer.
He was demoted from inspector to constable before eventually returning to his previous rank.
But, in 2009, it was claimed he was then suspended amid harassment allegations involving another female officer. Farquharson told the trial he left the police a year later.
Farquharson showed no emotion as the verdict was read out, and did not look at his children as he was led to the cells.
Lady Stacey deferred sentencing for reports until next month.
After the verdict, DI Winter stressed it had been a "domestic murder" that had been treated like any other incident regardless of Farquharson's past career.
When asked if it was difficult for officers to investigate a former member of the force for both emotional and practical reasons, he said: "Not at all on a personal level certainly, and on a professional level, no."