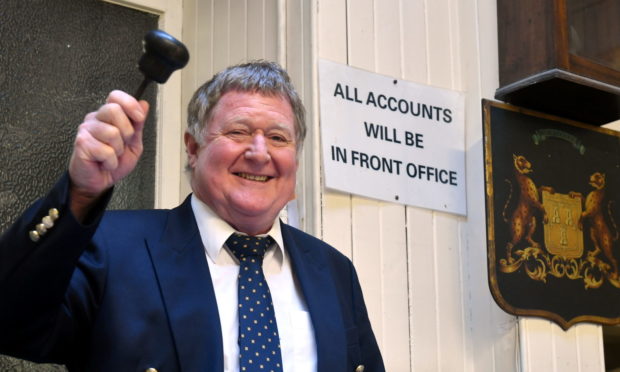 There's a burbled hum in the air as people thread their way past tables and peer into boxes.
The regulars have arrived early, and settled into an eccentric collection of seats.
It's first come, first served, and old hands know the score. A sagging armchair, or cast-offs from Victorian dining sets – you won't find generic plastic seating here.
Some people wave their hand in greeting, while tightly clutching white sheets of paper.
Those who don't frequent the hall so often stand on the outskirts, aloof and almost watchful.
By the time it reaches 10am, it's standing room only – with the crowd spilling out into the corridor.
Graham Lumsden pops his head round the door, smart blue blazer and tie in place.
"Is this your first time?" he asks, eyebrows raised in question.
I smile and nod, while admiring a pair of red vintage telephone sets in a dusty box.
"Good luck," Graham grins, and makes a hasty retreat.
He's not overseeing proceedings today, but is well known to dozens of prospective bidders.
His colleague, Steve Donaldson, clears his throat and a hush descends on the room.
The sale has begun, and within seconds, Steve brings the gavel down with a sharp thud.
A vintage tea box sells for £8, a Joseph Farquharson print for £10.
"Sheep and snow as always," remarks Steve, before the more desirable items are up.
The telephones fetch £180, a Chopard watch goes for £2,000.
Prices vary dramatically, but for the auctioneers there are few surprises – in the sales room at least.
John Milne is somewhat of an institution in the Granite City, and the family-run business was founded in 1867.
Now fourth generation, it remains a major auction house in the north-east.
The small team, which consists of seven members of staff, travel across Scotland – often at the invitation of private collectors.
The business started life on Adelphi, and now resides in former church halls on North Silver Street in Aberdeen city centre.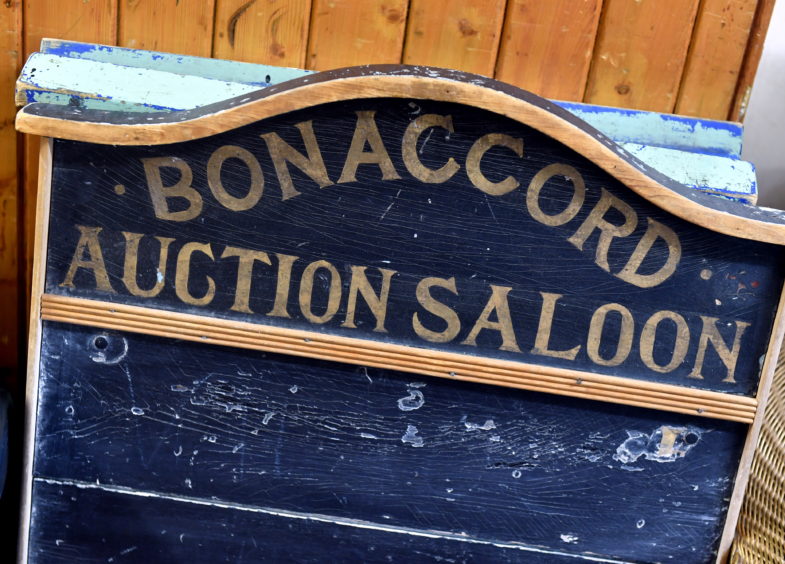 You won't find plush carpeting or the influence of technology, indeed the thick granite walls mean internet signal cannot be relied upon for people to bid online.
But the old-school charm somehow works, with bare floorboards and high rafters.
Each room is meticulously organised, and it can take hours for the experienced team to sort through boxes before a price can be decided upon.
I catch up with Graham the following day, for if he's not in the sales room, he is normally "out on jobs".
"You don't mind mess do you," he says, motioning at his office.
Paintings are propped up against the wall, and cabinets are groaning with books.
On closer inspection, the collection is, in fact, house inventories, which go back more than 100 years.
"People quite often request to take a look, it's a way of looking at their family history," says Graham.
The telephone trills, and Graham waits a second before settling back into his chair.
"We had a flier at the auction yesterday," he says.
"A box of records, they fetched far more than what we thought.
"As an auctioneer, you've got an idea what price an item will fetch.
"I think I've been an auctioneer for around 40 years now.
"I started off as a clerk here when I was 20, I'm born and bred Aberdeen.
"I had the interview on the Friday and started on the Monday.
"I've been here ever since.
"In those days, there were sales on Monday, Wednesday and Thursday.
"We used to have a back lane sale, literally a sale on the back lane.
"It would be chucking it down with rain, and I'd be standing there with a notepad and pencil trying to take notes.
"I think someone probably told me to have a go at selling.
"I know a lot of the customers, some have been coming here for years. You know who is going to buy what.
"If you've not seen a dealer for however many years and they suddenly turn up, you know there is something that they want."
Graham believes that the popularity of TV programmes such as Antiques Roadshow means people now have a greater understanding of auctions, and are eager to attend.
Indeed, the Antiques Road Trip will be filming at John Milne in April.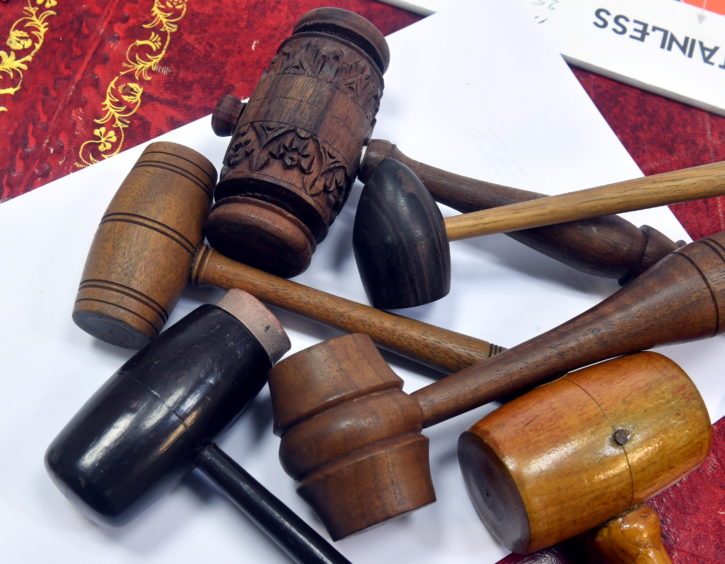 "We've been on a few shows before. I think you can chart changing times in an auction room," he says.
We head up a wide staircase to the sales room, where dozens of items are being laid out for the next auction.
"Viewers can come here every Tuesday, and if they want to make a bid on something but can't attend the auction, they let us know how high they'll go," says Graham.
He walks to the corner of the room, where there is a collection of dark wood furniture.
"This mahogany dining table and six chairs, probably £50 to £100," he says, with an air of resignation.
"That would have gone for £400 back in the day.
"Big heavy brown furniture doesn't sell anymore, it's sad.
"The younger generation don't want stuff like this.
"Maybe it's the type of houses people live in, where there just isn't the room.
"You see this in a big room and think wow, what a beauty.
"Then you get it home, and suddenly it doesn't look so good anymore.
"But in 100 years time, will people be going to an auction house with their Ikea chest of drawers?
"All this dark furniture would have been kept in your grandma's best room, housing the crystal and the tea sets.
"We've seen a bit of a revival in tea sets recently, because of coffee mornings held for charity.
"Victorian paintings have come down in value, so have grandfather clocks."
One of Graham's most expensive items was a Joseph Farquharson painting, which collected a "tasty" £26,000.
The team are occasionally asked to sell houses, and are more commonly called in for a house clearance.
There is a careful line to tread between an item and the sentiment attached, and Graham believes this balance needs to be struck by the owner.
"It's a difficult one – sometimes people can't bear to part with the sentiment," he says.
"So the item stays in your attic until you pass away, and it becomes the problem of the next generation and so on.
"The thing I love about the job is that every day is different.
"Of course you use your nous to price things, but you don't know what you're going to find at a house clearance.
"The area is no indication of the contents either.
"You'd be amazed by what's sitting in some houses in Aberdeen.
"You can go to what would be classed as a good area, and come away with just one vase.
"You can't tell the owner that everything is rubbish, we tend to say it's undesirable.
"Then you can go somewhere where house prices are lower, and be blown away by what you find.
"Sometimes when we do house clearances, people will ask us to bring a plain van.
"They don't want the neighbours to know that the belongings of the deceased are going to auction.
"I don't really know why that is.
"Some of the people I've met over the years, what characters.
"There doesn't seem to be as much crack anymore, but there's been some stories for sure."
We find our way downstairs to a store room, where a collection of sheet music is stacked in a corner.
Graham tries the handle of a red door, and steps away, satisfied.
"That's what we call our strong room," he says proudly.
"It's where we keep items that are of particular value, because they need to be kept out of sight.
"Despite the oil crash, we've kept ticking over here.
"But my God, there's been a big difference.
"I can remember a time when we'd send three big containers back to the States, absolutely filled with stuff.
"I think it was the novelty factor for people.
"You'd have someone very high up in oil, and they'd want to take stuff home.
"People still buy from overseas, but they have to send their own courier.
"Some couriers won't take paintings that are behind glass. When the glass smashes, it can damage the canvas.
"We have 800 regular buyers, so they have a permanent buying number.
"Things sometimes find their way back to us as well. Say, an item someone had from here 60 years ago.
"After they pass away, no one in the family wants it, so it comes back to us."
Alongside paintings, furniture and jewellery, slightly more unusual objects also end up at John Milne.
Graham carefully takes the lid off a blue velvet hat box, to reveal the rare contents within.
"This hat was worn by Ronald Reagan, it comes with the documents of proof," he says.
"We hear stories all the time of how something was used by Bonnie Prince Charlie.
"But unless you have proof, it's just a story.
"This has a price of £500, it's been up for auction a few times.
"It hasn't sold yet, I think that's why people never fail to surprise me.
"It's the small items people like.
"A woman once came in with £6,000 worth of gold coins. She had them in her handbag.
"Times have changed here – on Thursday we used to have a soft goods sale.
"Men would come in to get their kilts.
"Can you imagine that now?
"We're still here though, and I've got quite the collection of gavels to show for it."