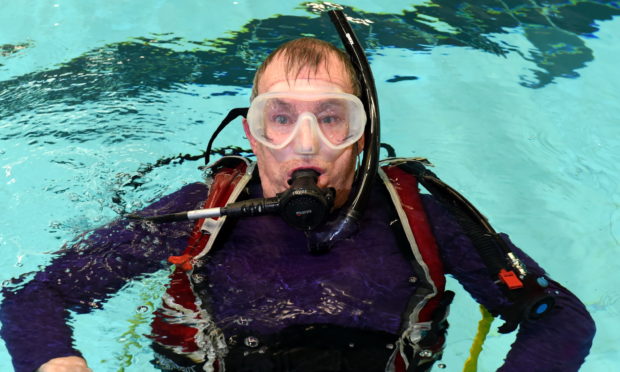 "Seals are a bit like dogs, they like to be petted," says David Smith, who's had his fair share of friendly encounters.
From foreign islands to closer to home in the Aberdeenshire village of Catterline, the retired historian has got closer than most to the inhabitants of the North Sea.
For rather than take in the sights from behind a pair of binoculars, David can be found beneath the waves, completely at one with the ebb and flow of the tide.
As chairman of Aberdeen Sub Aqua Club, he tries to head for the sea as much as possible.
The group also train in the aquatic centre in Aberdeen, as well as in the chilly depths of Boddam Quarry.
With members ranging in age from 16 to 74, diving is clearly a hobby which can appeal to all.
And with a recent flurry of new members, David is hopeful that the profile of the group could be on the up.
"We celebrated our 60th anniversary in 2018; we've actually got a brilliant history," he says.
"It started like most of the diving clubs around the country, it was purely recreational.
"After the Second World War, there was a surplus of Navy equipment which diving groups made use of.
"People actually made their own costumes in the 1960s.
"The Aberdeen group is known as branch 67; we currently have 32 members."
Divers of all abilities are welcome, from novices to those who are more experienced.
If you want to keep warm in temperatures which regularly dip below 10 degrees in the winter months, you're best to invest in the right equipment, though.
"These days, you are best diving in what is called a drysuit," explains David.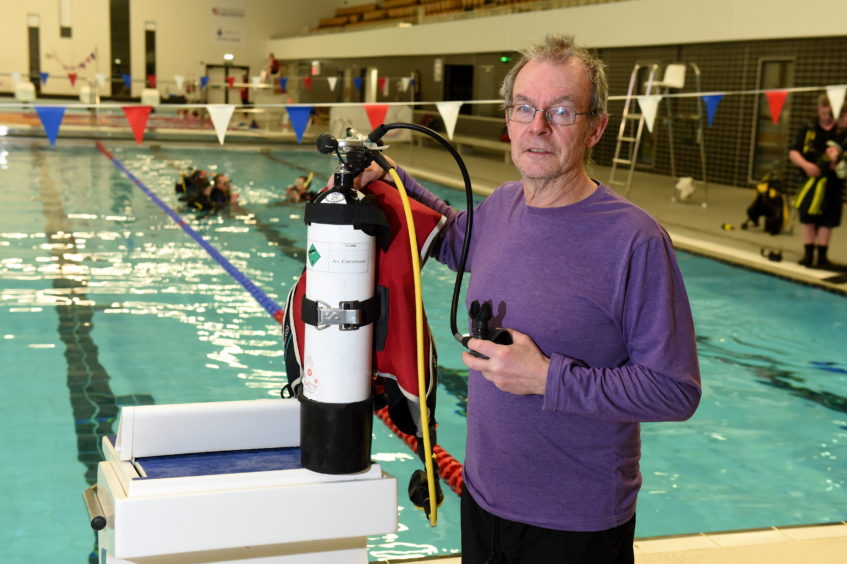 "I've had a lot of conversations about this, and I really believe it is the best way to keep warm.
"There's nothing to stop you from wearing a wetsuit, but the difference with a drysuit is that it has a quilted undersuit.
"It really does keep you warm, and water doesn't leak in because it is sealed around the neck and wrists."
David, who was a historian of medicine at Aberdeen University, experienced diving for the first time following a visit to Australia in 2012.
Having witnessed The Great Barrier Reef, he signed up to the club on his return.
"There is a series of qualifications, you can do your first one in about three or four days," says David.
"But that doesn't mean you are a competent diver.
"It takes time to master your buoyancy for example, and to learn how to let air in and out as you go down.
"When you return to the surface, you have to let the air out in such a way – so you don't come shooting up.
"Getting the bends is caused by nitrogen in the air that you are breathing in, dissolving in your blood.
"The pressure gets less as you come up, and the bubbles can block your blood vessels."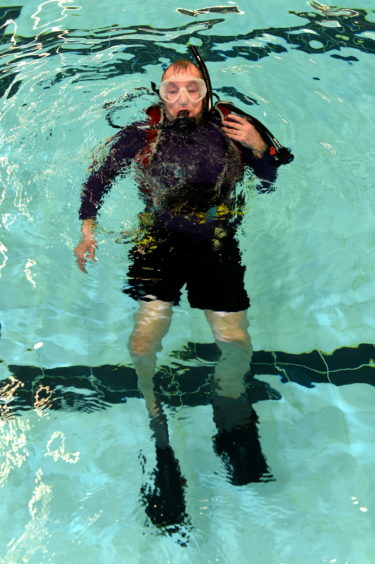 Alongside training, the group has a system called buddy diving – meaning members never go out on dives alone.
"We've never had any serious incidents, but small things can happen where you need the back-up of another person," says David.
"Even if the visibility isn't that great, diving can be really relaxing.
"That's the whole point, and you can see so much wildlife.
"Seals will come right up close to you, and there's sea anemones on the rocks.
"You get surprises as well, it is the unexpected which can be exciting.
"In Cove there is an area of the bay which is teeming with life.
"The visibility is better on the west coast, it tends to be silty this side of Boddam."
Some diving sites are only accessible at high tide, and the group tries to dive all year round.
David believes that some people naturally take to diving, but like anything in life, practice makes perfect.
"Some people take to diving straight away, and for others it can take a while to master some of the skills," he says.
"Say your mask begins to fill up with water on a dive, you have to learn how to take it off and put it back on.
"It's the people who really stick at it who become good divers.
"You have to be reasonably fit, but divers come in a wide range of shapes and sizes.
"We've got people from all walks of life, and we'd love new members."
For more information, visit www.aberdeen bsac.org.uk