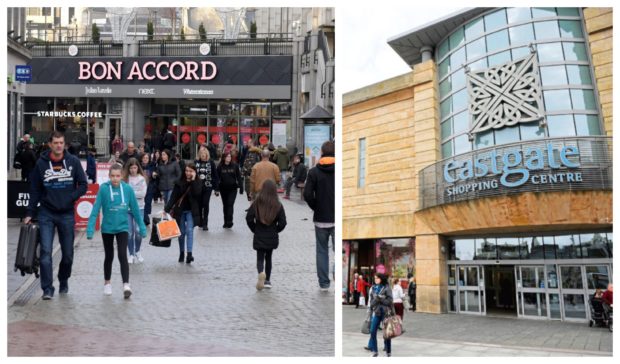 Shopping centre chiefs in the north and north-east have promised to do all they can to ensure struggling stores survive the coronavirus lockdown.
Fresh fears for the health of the high street have arisen in recent days after a number of big name firms were plunged into administration.
The decline of the likes of Debenhams, Oasis and Warehouse in quick succession has sparked fears some shopping centres could be left with rows of empty units when the lockdown is lifted, and that hundreds of jobs could be lost across the region.
Oasis and Warehouse occupy space in the lower mall of Aberdeen's Bon Accord Centre next to Burtons and Dorothy Perkins, which have already been marked for closure.
Oasis also has departments in John Lewis on George Street and in Debenhams – itself in administration – in the Trinity Centre.
Footwear chain Office, which has a premises in the Bon Accord St Nicholas Centre, has been put up for sale this week in the hopes that a new owner can secure its future.
Centre manager Craig Stevenson said: "Retail is a challenging industry, particularly given the current circumstances.
"Bon Accord continues to work with retailers offering solutions to suit the changing marketplace.
"We have seen some brilliant examples of our retailers adapting and going above and beyond to support the local community, and look forward to welcoming customers back when it is appropriate to do so."
Departments for both Oasis and Warehouse are also housed within the Debenhams in the Eastgate Centre in Inverness.
Its manager, Jackie Cuddy, said the landlord was working to help tenants keep trading in what she said would be "a different world".
She pointed to a rapid evolution in how some local retailers were carrying out their business, moving to flexible home delivery services to maintain income where they could.
She added: "No-one really knows how and when we are all going to come out of this and what can be salvaged.
"When we do, we can expect strict social distancing rules, especially in shopping centres.
"In the meantime we are trying to point retailers in the direction of grants that could be available and trying to support them – we are all in this together.
"There are lots of good examples of local operators doing home deliveries and that will help the high street in Inverness.
"It's for landlords like us to ensure we make an environment that works for us and tenants as well."
Concern remains for the state of high streets across the UK when the lockdown is lifted.
One Aberdeen industry boss said the current situation had increased the challenges retailers were already facing.
Chief executive of business improvement organisation Aberdeen Inspired, Adrian Watson, said it was for consumers to show there was still an appetite for "bricks and mortar retail".
He added: "The sector was already under significant pressure before the spectre of Covid-19, they were facing real challenges.
"The virus has probably just sped up that situation faced by many traditional retailers.
"It would be a real sore for us if we were to see the demise of the likes of Debenhams and others, which contribute much to the city centre beyond their front door."