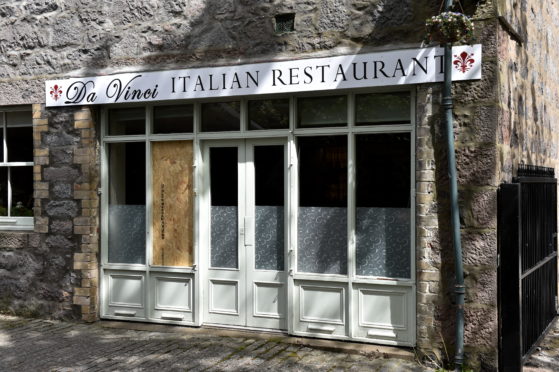 Police have arrested two people in connection with an early morning break-in at the Da Vinci Italian Restaurant in Aberdeen.
Owner Elena Ionascu said she'd been woken by a call from her alarm company at around 1.30am on Friday.
Upon checking the restaurants camera feed online, she saw a man stealing bottles of alcohol from behind the bar.
She said: "It was terrifying to see a man inside the restaurant.
"It probably wasn't the smartest thing to do, but I got up and ran round while calling the police.
"By the time I arrived, officers were already on the scene."
Police confirmed a 39-year old woman and a 34-year old man had subsequently been charged in connection with the break-in.
They are to appear at Aberdeen Sheriff Court on Monday.
It is believed the pair entered the building by smashing an exterior window with a golf club, repairs for which have been estimated at around £350.
Ms Ionascu added: "They were able to recover almost all that was stolen, but unfortunately the insurance won't cover the repairs of the window."
Like many other hospitality businesses, the team at Da Vinci have been hit hard by the Covid-19 crisis and the break-in has only added to their struggle.
The 37-year-old added: "It has been so nice to get messages of support from customers, but no one knows what is going to happen next and I guess all you can do is get on with it.
"We have been doing deliveries just to survive and that will continue."
Constable Melissa McGonagle said: "This was a great effort by the problem solving team and officers from Aberdeen's community policing team to quickly recover the stolen property and charge two people.
"If you hear or see any suspicious activity in your area, please report it to police as soon as possible so that we can investigate it promptly."