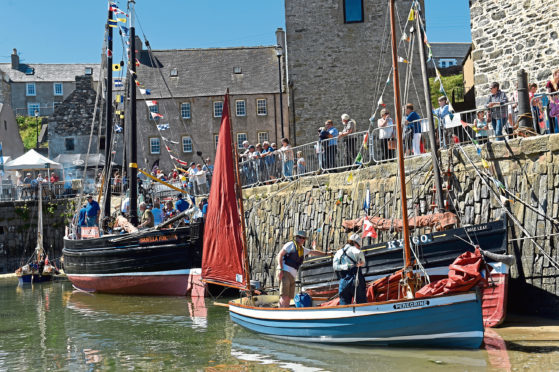 A north-east arts group, the organisers of an Aberdeenshire boat festival and a community car scheme in Wester Ross are just some of the recipients of the Queen's Award for Voluntary Service.
The award was created in 2002 to celebrate the anniversary of the Queen's coronation, and is considered to be the MBE for volunteer groups.
Every year, the accolade is given to organisations that provide exceptional social, economic or environmental services for their local community.
Among the 230 charities, social enterprises and voluntary groups to receive the award this year is North-East Open Studios (NEOS), an organisation dedicated to promoting arts and crafts in the north-east of Scotland through its creativity-focused events every September.
Chairwoman Fiona Duckett said the group, which started in 2004, was "thrilled" to receive the award.
She said: "We feel that this award is an amazing pat on the back for every single person who has volunteered and helped make the event that is North East Open Studios."
The Gairloch Community Car Scheme has also been recognised for its work in getting 2,200 people without cars to appointments, social events and shopping.
Joanie Whiteford, Lord Lieutenant of Ross and Cromarty said: "I am delighted that this group's work has been nationally recognised in this way.
"During our assessment visit one of the volunteers described the scheme as 'the silent backbone of the community', and having been in operation for 20 years it is difficult to imagine how this sparsely populated, isolated and remote area would function without this lifeline scheme."
Station House Media Unit (Shmu) which is based in Aberdeen has also received the award for its community radio station and the work it does to support more than 200 volunteers with various projects.
Shmu's chief executive officer Murray Dawson said it was an "incredible honour".
He added: "We just wouldn't exist without our amazing volunteers, and everyone one of them has played a part in our story over the last 20 years."
A Queen's Award for Voluntary Service has also been granted to the Portsoy Community Enterprise (PCE) group for its efforts in keeping traditional culture alive.
The organisation has operated the Scottish Traditional Boat Festival in Portsoy's harbour since 1993, and it also runs the Salmon Bothy, Boatshed, Portsoy Links Caravan Park and Sail Loft in the community.
David Urquhart, director and chairman, said: "All of us here at PCE are absolutely delighted to receive this award.
"The award recognises the hard work, effort, and commitment of so many people."
The Moray Inshore Rescue Organisation (Miro), a group of volunteers based in Findhorn, have also been honoured for their lifesaving work.
Chairman John Low said: "I would like to stress how proud I am of our Miro crew and shore support volunteers who give up their time to train and attend incidents day and night throughout the year."
Meanwhile Phionna McInnes, founder of Aberdeen inclusion charity We Too, said it was a timely recognition for all those working hard during the Covid-19 pandemic.
She thanked all the volunteers for stepping up to help families affected by hidden disabilities.
Ms McInnes said: "All our volunteers are absolutely delighted to be recognised with this award.
"Like many in the third sector we cannot operate without the value, time and experience they freely give us, and I am incredibly grateful for their time and support."