Inverurie businesses banded together in a town centre wide emergency effort as waves swept through streets amidst "horrific" flash flooding.
Torrential rain overpowered drains at the weekend and left shop owners fighting to protect shops, cafes and pubs only just reopened after months in lockdown.
Staff at the Kilted Frog were thanked for their quick-thinking as they rushed to close West High Street to cars, which were sending waves of water rushing towards doors.
As it was, water poured into cellars and caused significant damage to a number of premises in the town.
There have now been calls for an investigation into the town's drainage to establish what went wrong.
Inverurie councillor Marion Ewenson said she was "proud" of her community for pulling together.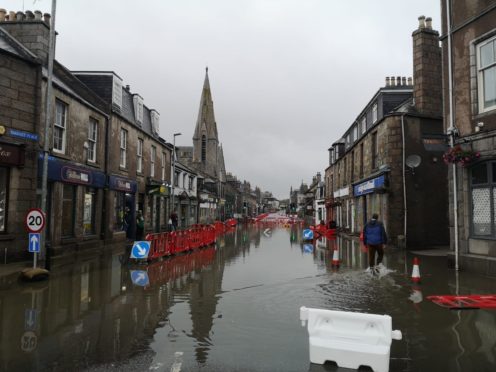 The Liberal Democrat spent Sunday surveying the damage and inspecting drain covers throughout the town centre.
She said: "Places like the Butchers Arms had only just managed to open their doors again.
"After everything the businesses have been through this year already, I felt so sorry for them when I heard the news.
"But there has been a great community effort and the majority of places are already back open for business once more.
"Perhaps that is in part due to Covid-19. There are so many great groups in Inverurie but they've truly come together throughout the last few months.
"The response has shown that Inverurie has a 'can-do' attitude and yes, I am proud."
The Garioch Heritage Centre was among those affected by the flash flooding.
Colin Wood, chairman of the Garioch Heritage Society, raced to the centre on Saturday night and alerted a local police officer to the flooding.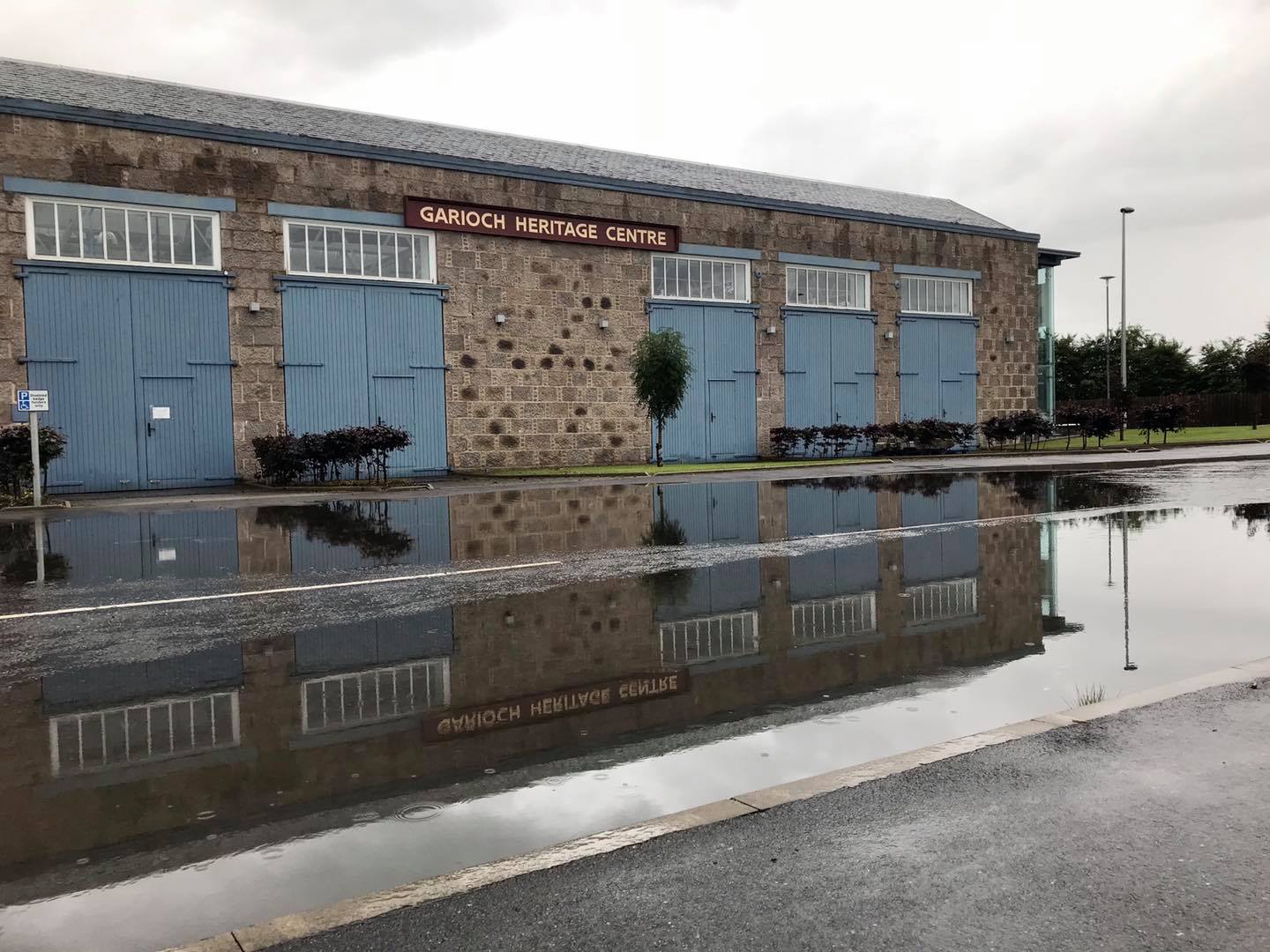 They in turn contacted the council who set about transporting sandbags to protect it and other premises.
Mr Wood said the damage caused meant it was "unlikely" the centre would be able to open next week as planned.
"It is disappointing, as we were so close, but it is unlikely we will be able to open next week at this rate.
"But we've had amazing support from the community council and our neighbours at The Sidings.
"People were turning up with mops to help us as best they could."
At the height of the flooding, pub staff worked in chains to empty countless buckets of water from an overflowing cellar, police officers rushed to distribute sand bags and community councillors ran to the aid of those affected.
The heavy rainfall, on Saturday night, caused the most significant damage in Middlemuir Road, West High Street and Harlaw Road.
The flooding also caused travel disruption on the B9170 road, which was closed in both directions.
Videos captured streams of water gushing from blocked drains as they struggled to cope with the rainfall.
Other images shared online showed cars half-submerged in the water.
Across the north-east town locals raced, often with a sandbag or mop in hand, to help their neighbours.
Heroic staff at the Drouthy Laird, on Blackhall Road, used a conveyor belt system to empty hundreds of buckets of water from a flooded cellar.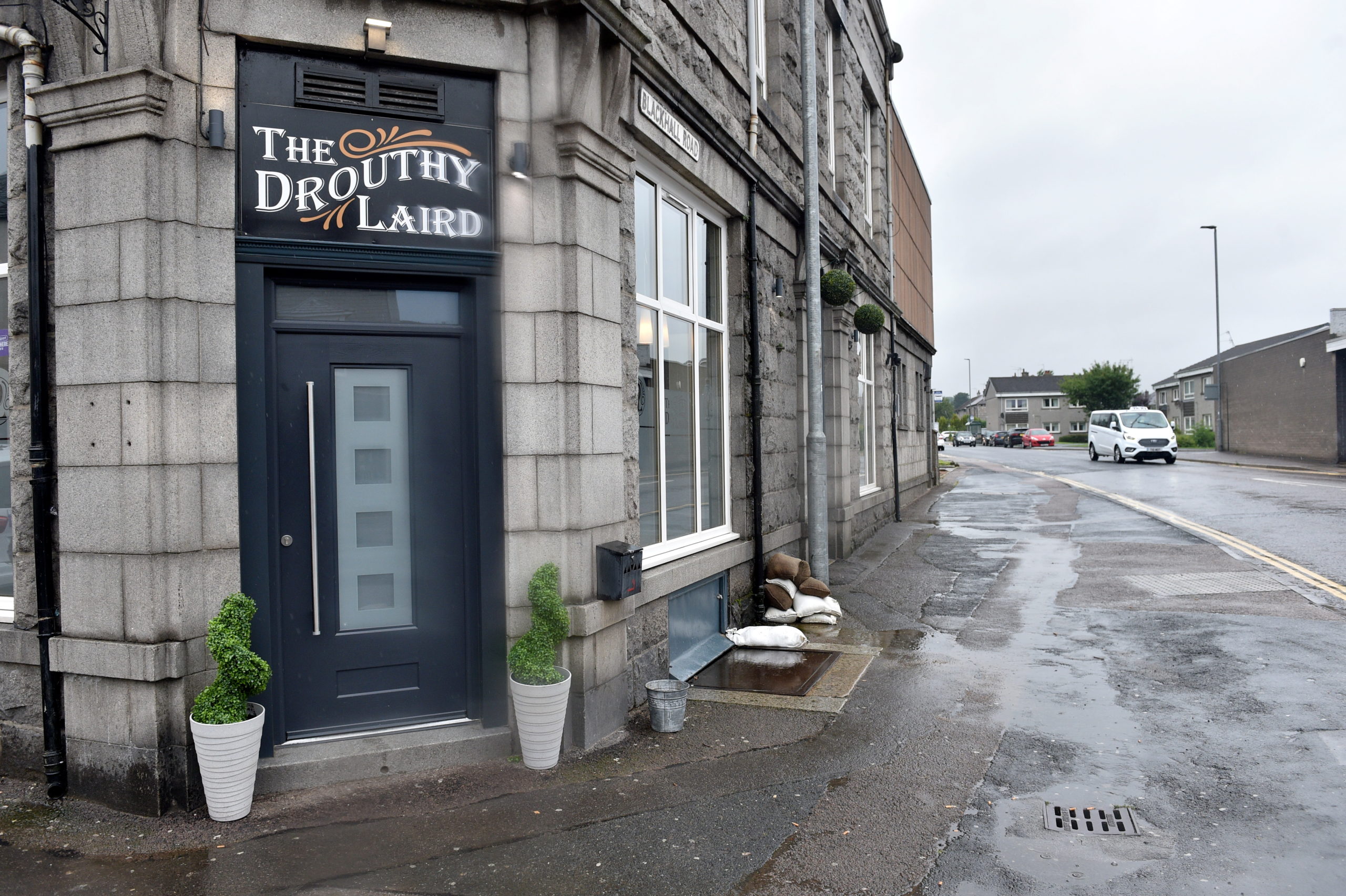 Landlord Laird Parker said: "I was having my dinner in the restaurant when one of the girls told me the news and I raced to the cellar.
"It was like a waterfall. The water had reached about a foot in height.
"It was crazy, but the staff were fantastic. I am immensely proud."
Mr Parker's 16-year-old son rushed to retrieve sandbags to help quell the torrent of water as firefighters arrived on scene.
Meanwhile, staff at the Kilted Frog coffee shop rushed to close West High Street, with staff at the Butchers Arms pub saying they "couldn't have done it" without help from their neighbours.
Speeding cars had been causing "huge waves", which threatened to flood properties on the street.
Inspector Gareth Hannan, of the Garioch community policing team, said: "We have a strong relationship with our community and I am delighted my officers were able to do what they could and work together with local business owners."
Last night, some business owners in Inverurie said they feared the water seeping into their properties may have been contaminated and filled with bacteria.
Emergency services have been dealing with flooding in the north east of Scotland following an afternoon of heavy rain. This was the scene in Inverurie earlier, with water levels now reported to have abated @BBCScotWeather @BBCScotlandNews (pic: Fubar News) pic.twitter.com/lSpKNy8LCh

— BBC North East Scot (@BBCNorthEast) July 25, 2020
One business owner, who did not wish to be named, said there had been a "problem" with pipes in the town centre.
He added: "I hope the council do something about this now. It's been an issue for along time."
Garioch Area Manager for Aberdeenshire Council, Ann Overton, said: "Officers from various council services were involved over the weekend to provide support during the bad weather and the community spirit was excellent, particularly for those areas directly affected such as the Garioch Heritage Centre.
"No formal road closures were required, although the volume and speed of the rain caused short-term challenges for the local drainage system, and sandbags were made available from the local roads depot.
"We would like to thank our staff, our colleagues in the emergency services and the Inverurie community for their quick response to situation."