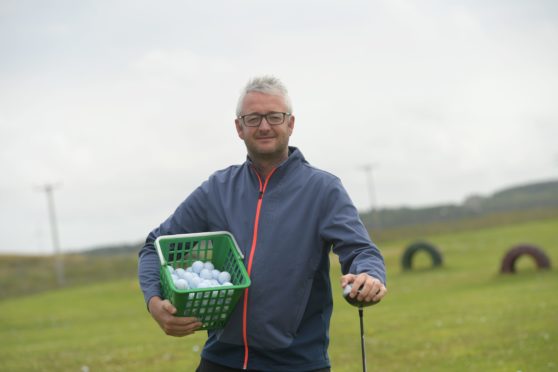 The owner of a north-east golf club is urging thieves caught on CCTV to "do the right thing" and return a haul of stolen golf balls.
The family-run Dunes Golf Centre in Fraserburgh reopened in June after four months without income throughout lockdown.
CCTV footage shared on the club's Facebook page recently shows two boys lifting a number of golf balls from the driving range before running away.
The incident happened around 7.55pm last Thursday and the member of staff working that night told owner Peter Myers about the incident.
Mr Myers said: "The CCTV only shows two boys but there were three involved, one was stood by the door as a look-out and he was caught by the staff member who was working that night – but the other two scattered."
The news was initially "disappointing" to the 41-year-old golf pro, but he now wants to assure the boys responsible that he "really wants to help".
He said: "My take is if they did this because they were bored and wanted to play golf, so we can help set them up.
"There is a great standard of etiquette with golf and, for young kids, it does no matter what your background is.
"I've known of a golfer who would steal golf balls when they were young and getting caught was the best thing that could've happened to them, it was how he was able to get started.
"We're a friendly, family-run facility and we'd like to see more people taking up golf."
It's believed the boys are between the ages of 10 and 13-years-old.
Mr Myers said: "If this had been adults, I may have taken a harder stance. I think the approach we're taking could have a more positive impact on them especially in their late teenage years."
Police are aware, however, the club does not want to take it any further.
Mr Myers said: "I understand the boys may be fearful of the implications. Ideally we'd just like for the boys to apologise and bring back the balls.
"They can do this in person or over the phone. I'd just like to have a chat with them and see what difference we can make."