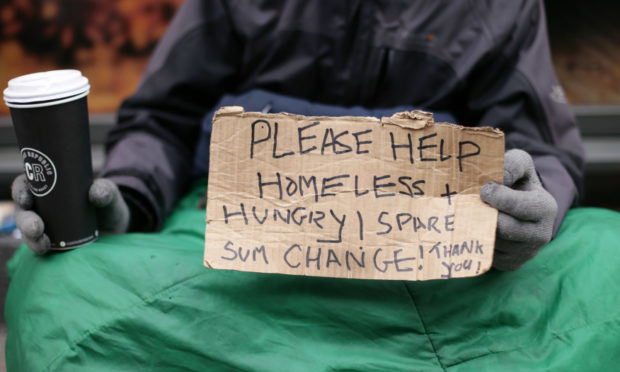 An Aberdeen charity is one of 28 organisations across the country backing a plea to the Scottish Government to extend emergency homelessness legislation.
A route map outlining steps to end destitution and protect human rights will be presented to the Scottish Government today.
Everyone Home is the name of the collective and together they have agreed a triple-lock of measures to mitigate the effects of the pandemic on homelessness.
They're calling for more homes, no return to rough sleeping and no eviction into homelessness.
Aberdeen Cyrenians is one of the main signatories and will begin consulting on the map alongside influential charity and academic sector organisations on August 17.
Chief executive of the charity, Mike Burns, has his fingers crossed hoping the government will extend the emergency legislation until April 2021.
He believes Aberdeen has the capacity to meet all three steps outlined in the route map but is aware that the local lockdown will have an adverse impact on potential eviction as many again lost their jobs.
"Locally in Aberdeen, we're aware of a number of eviction notices sitting waiting to go through the court," Mr Burns said. "The number is roughly 130 according to Shelter  and that rises to around 300 for the whole of Scotland.
"We are expecting to see an increased demand for our service and we're concerned for people experiencing job loses and a cut in income due to Covid-19.
"There is pressure to either feed your family or pay the rent and that is a very tough decision for people to make and it can result in eviction.
"Evicting people into homelessness has to be avoided at any time, never mind during a global health emergency. It is critical to keep people in house to keep safe.
"One of the things this partial lockdown has shown us is you never know what each day might bring."
The route map focuses on issues that people face when they don't have access to welfare benefits and housing options that are normally available to people in Scotland at risk of homelessness.
This is described as having no recourse to public funds (NRPF) and most commonly affects people seeking asylum – those appealing decisions are most affected – with around 50% of appeals subsequently upheld.
Chief executive of the Scottish Refugee Council, Sabir Zazai, said: "It is essential that the issues facing people with NRPF are part of mainstream housing policy.
"For Scotland to eliminate rough sleeping, everyone, no matter their immigration status, must be protected and have access to a safe place to stay.
"Scotland has a proud history of welcoming and supporting people. This route map is an important step in working towards an even better future for people seeking safety in this country."