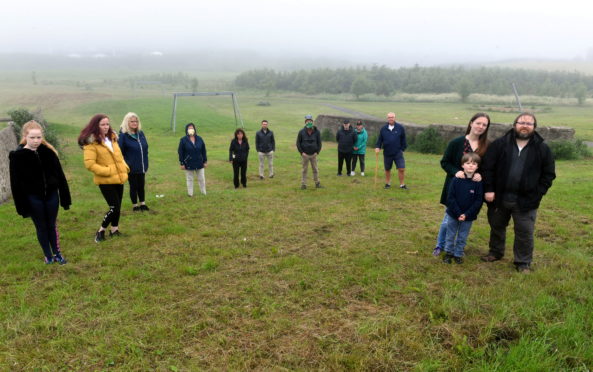 Residents in a fight against time over the construction of a new multi-million pound clean energy park in Torry have vowed to continue their fight against the "unwelcome and unwanted" development.
Plans for a new Energy Transition Zone (ETZ), which include two sites in Torry, would create a "major base for clean energy expertise" in Aberdeen, according to Sir Ian Wood.
However, a campaign group called Hands Off Our Green Spaces in Torry claim the loss of the area's "last green space" at St Fittick's Park would be damaging to the community.
In March, the council backed the proposed local development plan, which selected both St Fittick's Park and Doonie's Rare Breeds Farm as sites for the ETZ project.
A petition against the plans has so far garnered more than 3,000 signatures.
Renee Slater, who started the petition, said: "The loss of this space would have a direct impact on the community and is another unwelcome and unwanted industrial development pushed onto our doorsteps.
"The community feels extremely angry at the lack of transparency in consultation for the inclusion of this land in local development plans for the potential Energy Transition Zone, which is purely speculative at this point and appears to be dressed-up as a replacement for the declining oil and gas industry.
"A petition will be going forward in the next week or so."
A consultation on the proposed plan opened in May and will continue until the end of this month as part of the local development plan.
Torry resident and environmental scientist David Knight, said: "I'm not against the EZT as an idea, but I'm against the location that they're choosing.
"St Fittick's community park is the last real green space in Torry and the loss of it would be detrimental to the local wildlife and the local community."
Sir Ian Wood, chairman of Opportunity North East, who are behind the ETZ plans, said the development will "balance the physical requirements of energy transition activities with providing wider amenities and recreational environment, including a rich coastal green space".
He added: "The north-east of Scotland has a transformational opportunity to be at the heart of Energy Transition and help build a new green energy economy that will contribute to climate change targets and create long-term jobs, skills and training opportunities for local people."
An Aberdeen City Council spokesman said: "A business case for the ETZ is being undertaken by Opportunity North East and will provide detail of what development could occur within the overall area of the zone.
"This will look at opportunities in the energy sector and those that would be maximised by the new Aberdeen Harbour expansion, for example offshore wind.
"There will be engagement with local communities as this work develops."