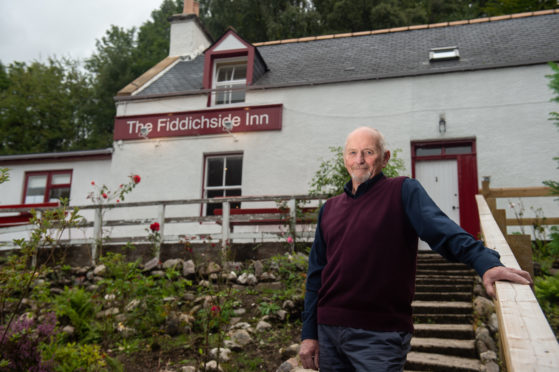 A retired former air force serviceman has been helped through lockdown by regulars at a popular Speyside bar following the death of his wife.
Tony Osbourne has taken on the duties of looking after the riverside garden at the Fiddichside Inn in Craigellachie, including the roses that were lovingly cared for by former owner Joe Brandie, who worked behind the bar for nearly 60 years.
The 74-year-old only moved to the area in December with his wife Sue to be closer to her son, who is posted at RAF Lossiemouth.
However, shortly before the coronavirus pandemic hit, his wife died and he faced being alone during the lockdown months.
Instead, Mr Osbourne has found friendship with regular visitors to the bar as he has tended to the flowers to keep the idyllic location looking pristine.
The hospitality of the small inn was famed across the world during Mr Brandie's tenure, with many people returning every year to the riverside spot.
Mr Osbourne said: "I had only been in the Fiddichside about three times before lockdown and the people there were very kind.
"When it had to close down I offered to help out with the garden, just to make sure it wasn't going wild with weeds everywhere, just to do what I could do.
"The roses that Joe had are still there.
"Local pubs are such an important part of the community. The Fiddichside has been hugely welcoming to me."
The Fiddichside Inn, which only opened again in January following Mr Brandie's death in 2017, is popular with trekkers on the Speyside Way as well as visitors from abroad sampling the produce from nearby distilleries.
And Mr Osbourne believes visitors from overseas are continuing to see the hallmarks of what made the bar popular during Mr Brandie's days.
He said: "We've had people in from Germany who are regulars going back a few years and they were telling me how pleased they are to see it open again.
"We have good days and quiet days at the moment but it's certainly a pub that has made a large impact on people's lives.
"It is so inclusive. It's a bit like being in someone's front room."