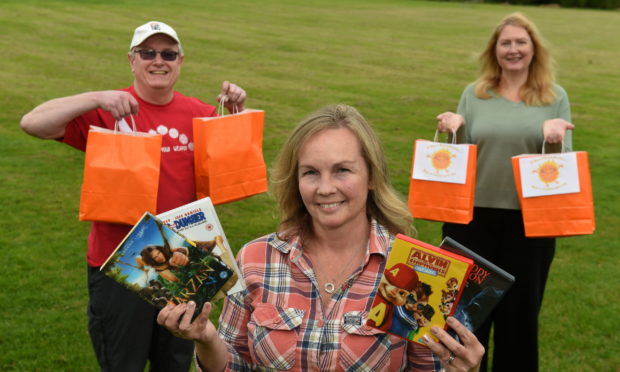 Aberdeenshire villagers have been "delighted" with the success of a DVD delivery project aimed at providing entertainment for vulnerable members of the community during lockdown.
Lumphanan Moving Pictures is a group of volunteers that run a rural cinema from their village venue, usually on a monthly basis.
A recipient of the recent Aberdeenshire Voluntary Action "community spirit award", the non-profit group was determined to work hard to combat social isolation during the pandemic by holding online quizzes and virtual film nights.
Members are now hailing the success of their popular "bags of cinema sunshine" project.
Residents have donated hundreds of DVDs to deliver to people who were either shielding or at risk of isolation.
Goodie bags featured six films and a sweet treat such as chocolate or popcorn.
All DVDs are sanitised and quarantined as an added safety measure, before being distributed and PPE clothing is worn while delivering.
Care homes and charities across Lumphanan, Torphins, Aboyne, Banchory and Kincardine O'Neil also benefited from the project, which the cinema would like to continue to support for as long as possible.
Meanwhile, the committee are hard at work exploring ideas for re-opening and while major cinema chains such as Vue and Cineworld are already operational, the team is currently gauging opinions on when to re-open.
Once they do, safety measures will include a limit on the capacity in the hall, households sitting together and masks being worn until people reach their seat.
A delivery at Annesley Care HomeA spokesperson from Lumphanan Moving Pictures said: "Not everyone has been able to afford streaming services such as Netflix or Disney Plus during lockdown and it;s been very rewarding to be able to offer cinematic entertainment in a different form.
"The project has given our volunteers a continued focus while our cinema has been closed by continuing to support the local community – and we've been delighted at the response.
"We're in our 11th year and our cinema has become more than a cinema; it's a social hub offering access to local rural entertainment and our aim is to become even more accessible once we are able to re-open our doors."
The committee is seeking a "sunshine coordinator" located in the Mid-Deeside area to help manage this community project.
To find out more or offer their services, people can email lump.m.p@gmail.com