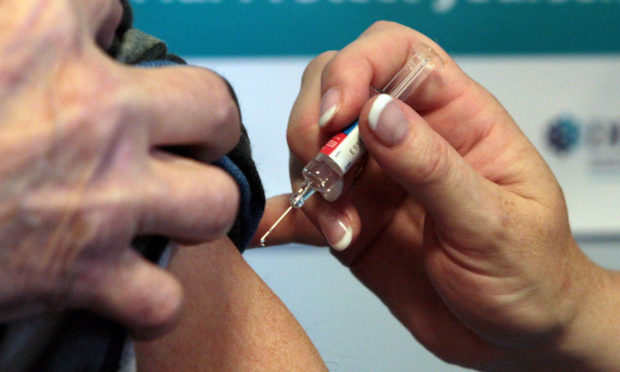 Work to give more than 100,000 people in Aberdeen the flu vaccine in the next four months has been billed "a dry run" for a coronavirus immunisation.
City health bosses signed off on an overhaul of the vaccination process, which will steer residents away from GP surgeries and to the likes of community centres, schools and church halls.
It is hoped taking treatment to the people, as well as setting up community hubs across the city, will mean greater uptake of routine immunisations.
The Scottish Government increased eligibility for the free flu jab this year, meaning now half of all Aberdeen citizens are now being lined up for the inoculation.
The age of eligibility has been lowered from 65 to 55 – and could be lowered to 50 if stocks will be stretched far enough – and all those shielding, or living with someone who is, can receive the vaccine too.
Aberdeen City Health And Social Care Partnership's (ACHSCP) shake-up will result in a single vaccination team overseeing all routine injections, and will be staffed by 21 whole equivalent (WTE) nurses.
The WTE salaries budgeted will mean "an awful lot more than 21 people" on the team during the four-month campaign, councillor Sarah Duncan said.
The chairwoman of the integration joint board (IJB), which oversees health and social care services in the city, said: "In my head, this year's flu vaccination programme is a kind of dry run for Covid-19 vaccinations.
"So the issues we encounter – because there will be issues – with this new form of delivery and people having to go somewhere other than their GP surgeries.
"I've had constituents contact me who have already been in touch with GP surgeries and been told 'we are not doing it this year' and are anxious.
"But we will experience the same things coming back to us when a Covid-19 vaccination is announced so we will learn some valuable lessons from the flu vaccinations this year.
"And also our ability to step up the staffing, as the big risk is that we don't have enough people to do it."
But work is underway to cope with any upcoming mass immunisation programme, with a view to a potential Covid-19 jab, by training up unregistered staff to bolster the effort.
The Scottish Executive Nurse Directors Group is finalising guidelines for bringing extra people in to help administer vaccinations, with frameworks for education and how authorities should manage the workers.
ACHSCP transformation lead Gail Woodcock warned staffing would be the "biggest risk" in the immunisation programme, as all health authorities scrambled for the same staff.
On Tuesday, the IJB requested health officers compile a report on lessons learned from this year's flu season to aid the coronavirus effort.
Aberdeen City Council chief executive Angela Scott suggested the evaluation given the "importance of this work".
The report will come back to the IJB in the spring.