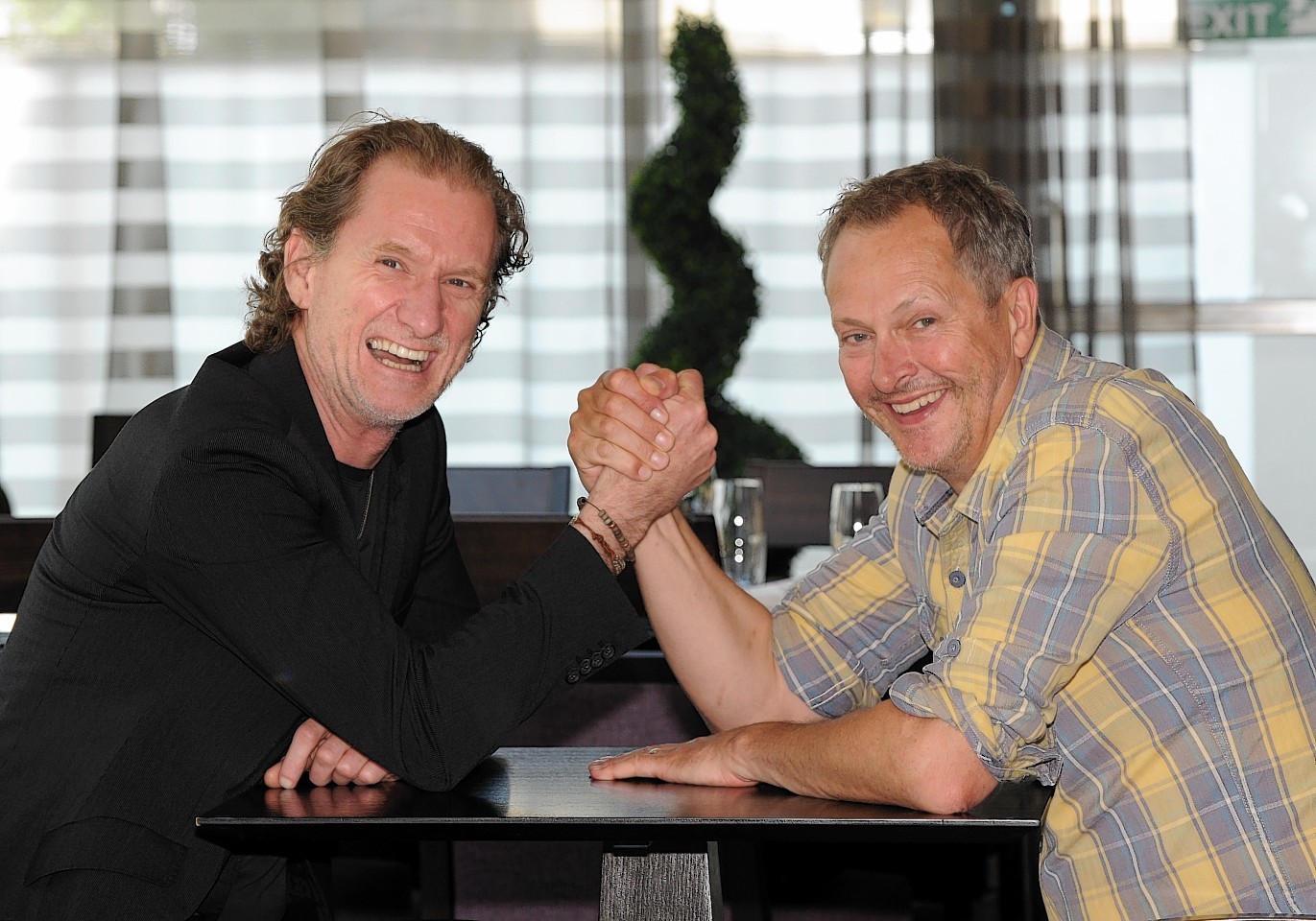 A cook-off between rival chefs at today's Taste of Grampian event in Inverurie will be "friendly but deadly serious" according to TV personality Nick Nairn.
The star will face his counterpart from Northern Ireland, Paul Rankin, in the celebrity chef duel – a regular crowd pleasing highlight of the Taste of Grampian event which is now in its 15th year.
"It will be tough," said Mr Nairn yesterday. "Paul is a really good cook."
Mr Nairn, who runs a cookery school in Aberdeen as well as his original enterprise at Port of Menteith, competed in the same event last year against Simon Rimmer – and is re-considering his strategy.
"I tried to be entertaining – I thought – which kind of backfired because Rimmer won," he laughed.
"This time the message is loud and clear – concentrate on the food."
Away from the rivalry at the Thainstone Centre today, he and Mr Rankin are firm friends after filming a successful television series, called Paul and Nick's Big Food Trip.
The programme followed the pair as they travelled by boat along the Scottish and Northern Irish coasts.
Straight after the Taste of Grampian event, the duo are jetting off to Philadelphia to film a second series, Paul and Nick's Big Food Trip USA.
Mr Nairn explained: "We have been tracing the Ulster Scots, who emigrated to America.
"We've already made five programmes. We found that we invented all the food in America.
"Hamburger was a mince sandwich, grits are our porridge, and their biscuits are our scones.
"It has been fascinating."
The Taste of Grampian will also host school cookery competitions and the final of a brand new north-east initiative which aims to track down the aspiring young chef of 2014.
About 150 exhibitors will be tempting the tastebuds of visitors with delicious wares from the north-east's larder.
Several are also marking the occasion with new product launches.
They include Huntly Herbs, which has been growing organic herbs and making organic preserves on its Aberdeenshire farm for 15 years and will unveil a new range of Infused Vinegars.
The range includes a fruity raspberry vinegar, a fiery horseradish vinegar and a more mellow tarragon vinegar.
Anna Wilson, who developed the recipes, said: "Vinegars are a really easy way to incorporate herby flavours into everyday cooking."
Taste of Grampian, which is held at the Thainstone Centre in Inverurie, is free to attend.
Parking is charged at £5 for the whole day.
Event chairman Brian Pack said he hoped to attract even more visitors than the 14,000 who attended in 2013.
"It's a great, fun day out which celebrates the extent and quality of Grampian's larder," he said.
The title sponsor is serviced accommodation provider Town and Country Apartments.
Also sponsoring this year's event are Asda, Quality Meat Scotland, the Food Standards Agency, the Crerar Thainstone House Hotel, Young's Seafood, Tesco, the Mercure Ardoe House Hotel and Spa, Mackie's of Scotland, Hamlyns of Scotland, the Royal Bank of Scotland, Thistle Hotels, Union Square, Imajica, More Than Kitchens, Service Point, Ledingham Chalmers, the Nick Nairn Cook School, the Marcliffe Hotel and Spa and the North-east Scotland College.
Partners are the ANM Group, Aberdeenshire Council, Grampian Food Forum, the Press and Journal and Scottish Enterprise.