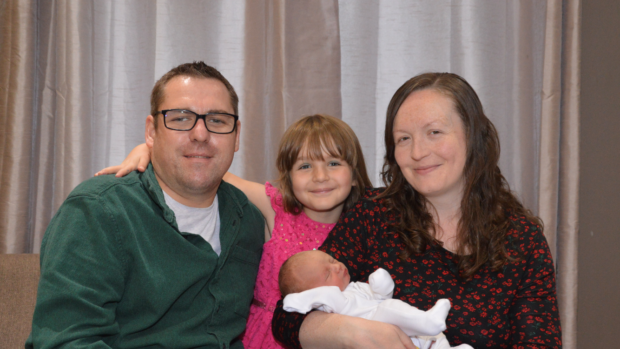 When Louise Evans gave birth to her first child she was surrounded by midwives in hospital after a labour lasting almost 24 hours.
But her second just couldn't wait that long and ended up being delivered in the car park of Aberdeen Maternity Hospital.
Thankfully husband Chris was on hand to catch the newborn before he was passed onto midwives who had dashed from the wards to help.
Calum Robert Evans, born healthy and weighing 5lbs 130z, entered the world in just the time it took for his dad to grab a wheelchair.
He will turn one-week-old tomorrow.
Mr Evans, 39, said: "My wife called saying she was having contractions and had been told to go in to be assessed – and then her waters broke in the back of the car.
"We got there, parked up and I went to get her a wheelchair. By the time I got one and got back, the bairn was between her legs and greeting.
"Louise delivered him herself with me making sure he never fell onto the ground and lifting him up to her.
"I remember screaming in the car park for help and a guy came running towards me and I told him 'no, get a midwife'.
"About six off-duty midwives came running towards me and took over.
"The others arrived from the ward with a case with all the utensils, for want of a better word, and I cut the cord standing at the side of the car.
"They midwives were brand new, I couldn't fault them at all. They just came from nowhere.
"There were people standing on the side of the road clapping. It was just crazy."
Mrs Evans first felt pains around lunchtime but from experience thought it best to leave it as late as possible before heading from their Bridge of Don home to the hospital.
The 34-year-old said: "I was told to try and stay at home as long as I could. But in the end my waters broke in the car and he was born in the car park at 7pm. It took literally 10 minutes.
"He came on his due date, but with my daughter Kayla I was four days late so in a way that's why, when I woke up that morning, I though there was no way it was going to happen that day.
"It was so different to my first labour, but in a way a nice relief. It was incredible. I can't wait to tell Calum about it when he's older."
Little Calum and his mum got home 24 hours later where he's settling in well alongside his proud five-year-old sister, who missed the birth by minutes.
"He is very content and happy, sleeping a lot and feeding well," Mr Evans added.
"Kayla missed it by about five minutes which is quite lucky. My parents met us there to take her and they did just in time. I don't think that's how she should see her little brother coming in to the world."
Mr Evans, who works in sales, and his wife of six years, a carer, are now enjoying introducing the new addition to their families in Aberdeen and Buckie, albeit one at a time and with masks on.
Mrs Evans added: "We would like to say a very special and big thank you to everyone that helped, especially our main midwife Daisy Bruce.
"They were all out helping and I couldn't have asked for anything better, especially at such short notice."