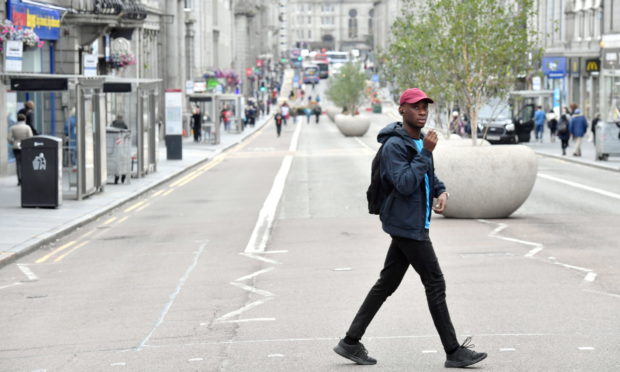 Aberdeen's small business owners have expressed concern over declining customer numbers, as new figures show footfall plunged by more than half during the city's second lockdown.
Data provided by business development group Aberdeen Inspired indicates an overall 55% decline from late July to early September, compared to the same period in 2019.
During the lockdown itself, footfall fell by more than 62%.
A number of small outlets operating close to Union Street have expressed their frustration over the impact of declining sales and the changing city centre situation.
Mike McLean, owner of Asylum Books and Games in Adelphi Lane, said he is having to take it "one day at a time"
He added: "I can't plan any kind of long-term strategy at the moment.
"Just look at the difference between yesterday and today, with the entire change in legislation around the hospitality sector.
"Who is to say they won't shut down retail tomorrow? How do I plan for that?
"It's a nuisance in that the more confidence people had in the hospitality trade the more they were coming out and spending – I don't think this half lockdown thing is going to work for a lot of businesses."
Colin Cameron, who owns the Kirkgate Bar, The Bridge and Masada, said he "didn't have a problem" with the new legislation and had been advocating for the earlier closing of pubs.
"For a great number of pubs a ten o'clock won't be a huge problem – I'm just delighted we're not in another full lockdown – so let's hope it works," he said.
However, Mr Cameron acknowledged that the Aberdeen lockdown had caused his trade to "tail off a bit" and expressed worry over the survival of other premises after the closure of a number of city centre bars and pubs.
He added: "It's definitely had a knock-on effect. But I'm in the fortunate position of owning my pubs and not having to pay rent. I do feel sorry for people who must be struggling right now.
"I would predict you will see a few more places close before this is over."
Greg Chapman, manager of The Cavern Record Shop on Belmont Street, said online sales had played a large part in the city centre business's survival.
But he added that Aberdeen's bars and cafes being open is directly connected to increased footfall in the record shop.
"The sales I'm hitting at the moment are nowhere near what I need to be hitting", Mr Chapman said.
"When the pubs and cafes are open you get a vibe on the street, with people popping in, but there have been periods where it was a ghost town."
Adrian Watson, Aberdeen Inspired chief executive, said: "These places are the heart of the city when it's beating loudly.
"It was challenged before Covid-19, but what this virus has done is accelerate the scale of the challenge to all our businesses.
"The interdependency between retail and hospitality is quite stark across the city centre and these industries need further support over what will be extremely difficult times."