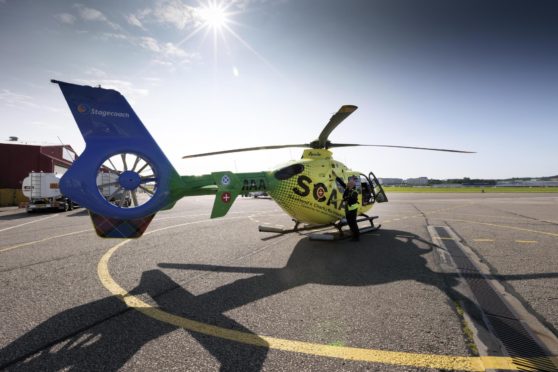 Paramedics have been flown to medical emergencies nearly 100 times in the first six months of operations for the north-east's new charity helicopter.
Scotland's Charity Air Ambulance (SCAA) launched its second aircraft, based at Aberdeen International Airport, on April 3.
The launch was somewhat overshadowed by the pandemic – but crews have already flown nearly 10,000 nautical miles in their first half a year of service.
Coronavirus has changed the role SCAA has been able to play to some extent, with stricter controls in place throughout lockdown to control the spread.
Although the crew can – and has – been called to all corners of Scotland, nearly three quarters of their work has been within the Grampian region – with Aberdeen Royal Infirmary (ARI) and its major trauma centre the most frequent destination for airlifted casualties.
Lead paramedic Ewan Littlejohn said: "There has been a fair mix between us and the emergency medical retrieval service (EMRS) trauma team, which has been interesting.
"We have been doing a lot of teaching with them and the pilots – it's been massively helpful to have this little bubble of time to get up to speed.
"We are now at the stage where we are eager to help more people."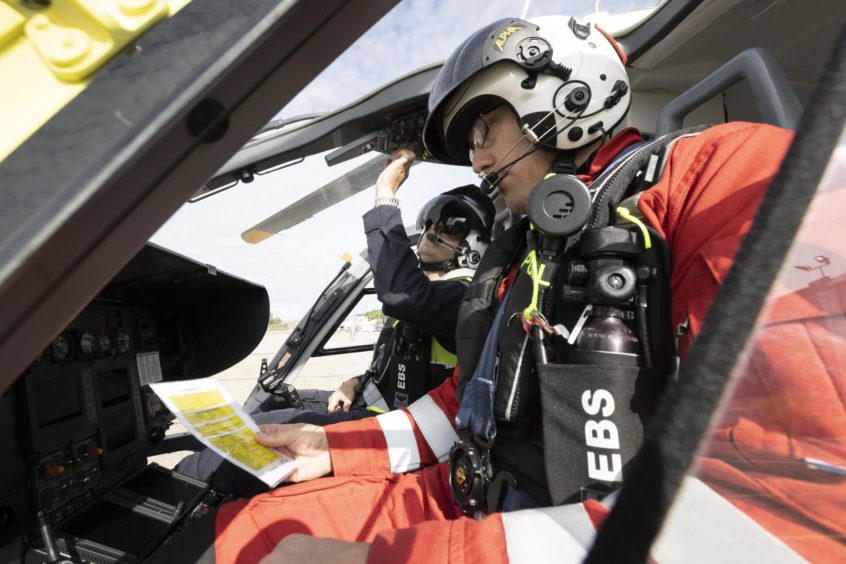 Captain Pete Winn, one of two pilots based with SCAA, added: "It's been a varied six months, with everything from the tragic major incident near Stonehaven to little girls being hurt falling from horses, along with motorbike accidents and landing on Bennachie to pick up walkers.
"We've seen the full spectrum of using the aircraft to take patients and care to where needed."
The EMRS team is a team of consultants based yards away from the SCAA hangar at the airport.
When SCAA is called to the most seriously injured patients, the two teams work together to provide hospital-level treatment at the scene.
For Mr Littlejohn, the story one patient from the scores he's now helped with SCAA illustrates the crew's impact best.
"There was a motorcyclist out near Banchory who was hurt in a collision," he said.
"The trauma team came out with us and that did save that man's life.
"That's what they are for, we got them out very quickly, we all worked very quickly – and otherwise he would have died.
"He's now making a good recovery."
Another call, to the side of Bennachie, was highlighted by Capt Winn, when the crew came to the said of an injured walker.
The woman suffered a fractured hip and would have faced a long and uncomfortable carry down the side of the hill had he not been able to land the EC135 T2E alongside her.
At the bottom of the hill, an hour's trip by road ambulance would have waited.
Ambulance control has made the most of the new charity asset, Helimed 79, since April.
As well as serving the north-east, SCAA's crew have flown to the aid of the most seriously hurt all over the country, as far north as Orkney.
The most they have been called upon in a single day was in June, when they were rushed to three jobs.
The first, taking the EMRS team an accident on a farm in the Mearns, before transporting a patient to Sanday in Orkney and airlifting a passenger from Balfour Hospital in Kirkwall back down to Aberdeen Royal Infirmary on the return leg.
Most of the work – around 65% – has been helping those with traumatic injuries from the likes of car crashes, falls and industrial or farming accidents.
Another fifth of their calls have been to help people suffering cardiac arrest or other medical emergencies.
Weekends have proven busiest, with nearly half of all Helimed 79's work coming on Saturday and Sundays between 10am and 6pm.
SCAA is still working to raise £6 million to cover its first three years of operations out of Aberdeen, having so far raised around half of that total.