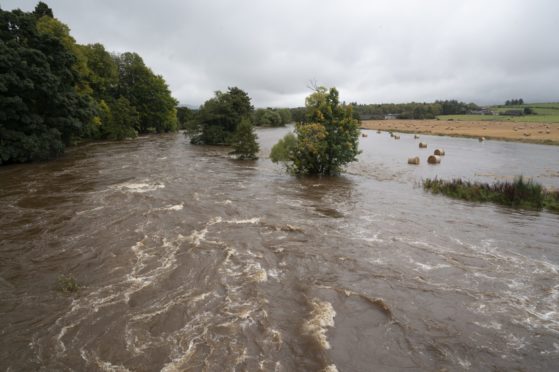 Trains were cancelled, ferries delayed and roads submerged across the north-east as record-breaking rainfall caused chaos over the weekend.
In some areas of Aberdeenshire, the most rain in almost a century over the course of a 24-hour period was recorded, and widespread flooding was reported across the region as the rivers Dee, Don and Ythan burst their banks.
Raging rapids battered the archway of the bridge over the Falls of Feugh near Banchory yesterday morning and, outside the P&J Live arena, the A96 Aberdeen to Huntly road was closed when it was left swamped by floodwater.
In Alford, Haughton Park was awash with water from the River Don, and nearby farmers' fields were also left drenched.
Travellers faced a great deal of disruption, from high winds delaying the Northlink ferry from Lerwick to Aberdeen, a slew of both major and smaller roads closed to traffic, and flooding on the railway line resulting in Network Rail closing routes.
Yesterday, Network Rail shut the railway due to flooding between Elgin and Keith, as well as between Dyce and Inverurie.
Some parts of the north-east, including near the Bridge of Dye and Auchenblae, had more than 4.3 inches of rainfall over a 36-hour period according to the Scottish Environment Protection Agency (Sepa).
Sepa's station at Mongour, south of Durris, recorded 124.6mm, or almost five inches, of rainfall in a 36-hour period.
According to the Met Office, the average monthly rainfall for Aberdeenshire is 4.7 inches.
Alex Burkill, meteorologist at the Met Office, said: "A number of stations in the north-east may have exceeded their records for rainfall over 24-hour periods.
"From 10am on Saturday until 10am on Sunday, a number of stations in Aberdeenshire do look provisionally like they have exceeded their records for rainfall at any time of the year, their wettest days on record in fact.
"These are all provisional, but areas which seem to have exceeded records include Fyvie Castle, Craibstone, Aboyne and Mongour.
"Some of these records, for example Craibstone, go back to 1937, so it was the wettest it had been in a 24 hour period in almost a century."
At Fyvie Castle on Saturday night, the severe weather resulted in a 150-year-old elm tree crashing down outside the accommodation of castle gardener Stuart Stockley, narrowly avoiding the destruction of some historic stone planters.
Mr Stockley said yesterday: "It's an old dead wood elm tree, and the rain just brought it down after washing through all of its cavities and weakening it even further.
"It came down with an almighty thump, and I found it smashed into the ground in the morning.
"Dutch Elm disease had already killed it so it had been dead for a long time before it was brought down.
"The good thing is nobody was hurt and there wasn't any serious damage to anything on the property, it just thankfully missed three stone urns that are antique."
The Met Office said further poor weather is expected for the rest of the week, and urged residents not to put away their rain jackets just yet.
Mr Burkhill added: "There is likely to be more showers as we go through to Tuesday, which will be quite wet and blustery at times, with a similar picture on Wednesday, but none of the rain will be as persistent as we've seen over the weekend.
"But there's a bit of a question mark over Thursday.
"It's likely to be a really unsettled day across the UK as a whole, but it's possible that the north-east of Scotland could see the worst of the weather.
"So for the next few days it will be still quite changeable, but Thursday does have the potential to bring some wet and windy weather.
"We're only at the start of October, so we have plenty more wet weather coming in the next few months."