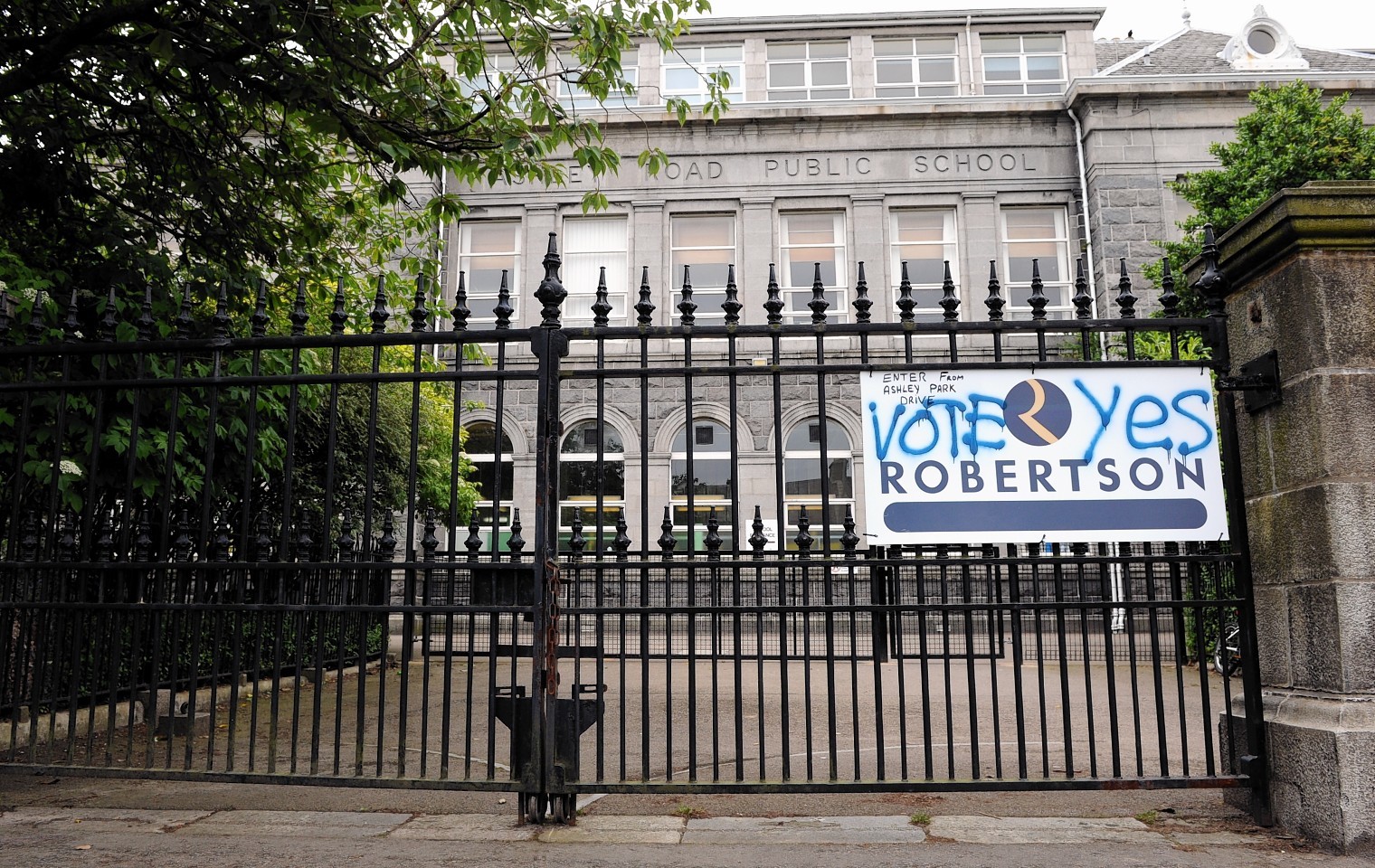 A local community expressed their disbelief last night after an Aberdeen primary school was branded with graffiti linked to the independence referendum.
Large blue letters saying 'Vote Yes' were also spray painted across the side of a residential property in the west end of the city.
Local councillors said they believed pro-independence campaigners were behind the Ashley Road attacks, which are understood to have happened in the early hours of Thursday morning.
Last night, a spokesman for the Yes campaign said there was no excuse for any criminal acts in the run-up to the big vote.
"'There is no place for attacks, whether abuse, graffiti or vandalism in this campaign and we have been at pains to impress on everyone – on both sides of the debate – to treat others with respect at all times," he said.
Ashley Road Liberal Democrat representative, councillor Martin Greig, said he was shocked and disappointed that innocent people – including children – had been targeted.
"It is deeply upsetting that the school and properties in the area have been hit by this malicious activity," he said.
"I am sorry for the owners who will have to pay to have this cleaned off and it is regrettable that scarce public resources will have to be spent on a clean up instead of on books and materials.
"It is unfair that innocent residents have been targeted by this anti-social activity."
Last night the homeowner, Mandy Hirst, said she would not take any action on the vandalism until the independence referendum was done and dusted.
She said: "My plan is just to leave it up, certainly until after the vote. The plan is I'm just going to leave it and we'll deal with after the referendum."
The mother of two, whose husband is currently away for work in Kazakhstan, added: "I don't think I have ever voiced which way I intend to vote.
"I think it just happens my house provides the biggest billboard in the west end of Aberdeen."
Last night, a local authority spokeswoman said the council's graffiti squad would visit the school at the "earliest opportunity" to assess the damage and take what action was necessary to clear up the mess.
Police were not able to confirm if they are investigating the vandalism yesterday, however the councillors urged anyone who has any information to contact the force on 101.