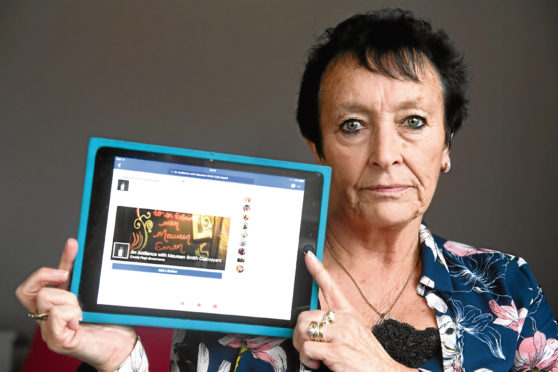 A medium has called in police after claiming a fraudster impersonated her in a bid to dupe customers out of cash.
Maureen Smith has been earning a living talking to the dead for 30 years and was shocked to discover a scam artist trying to con her clients out of £10 each for "online readings".
The grandmother-of-nine said one of her customers came close to handing over their bank details but smelled a rat before blocking the culprit.
The dead giveaway for Maureen, 71, of Fyvie, was when her own husband Raymond, 64, received a message inviting him to pay £10 for a chat with his own wife.
"He of course knew that I hadn't sent him such a message and that I don't even do online consultations, so it set off a big alarm in my head," said Maureen.
More than 6,500 people "follow" Maureen's Facebook page – a following she has built up over three decades of doing one-on-one clairvoyant readings and hosting popular medium events across the North-east.
Maureen says she can communicate with loved ones from beyond the grave and tell people the name and personal details of relatives who have passed to the other side.
"Whoever was behind this went through all my Facebook followers and sent them each a message claiming to be from me – but it was actually from a fake profile with my name," said Maureen, a mother of three.
She added: "The message said that they would give them an online or phone consultation for a £10 payment, and they were asked to send their bank details.
"When I found out I was shocked. I've been doing my job for 30 years and nothing like this has ever happened before.
"It is a bit scary that someone has impersonated me and wants to use the reputation that I have built up in an attempt to scam people. It remains a mystery who was responsible for this – but I have my eye out for any future scams."
Maureen has now sent a message warning her Facebook followers of the scam.
A Police Scotland spokeswoman said: "A woman visited Turriff Police Station on Sunday to report to police that her name had been used in fraudulent activity online.
"She was given advice and there has not been a formal reporting of a crime."