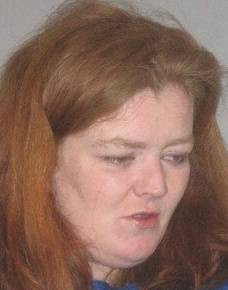 Police have widened the search for missing Kelli Ferris, amid mounting concerns for her safety.
Officers believe she may have boarded a 13 or 15 bus on the day she disappeared and yesterday targeted travellers at bus stops around the city's sheriff court in Union Street.
The 40-year-old was last seen in the area around 6.50pm on Wednesday September 10, shortly after buying takeaway food from nearby restaurant La Lombarda around 6pm.
Detective Superintendent Mark Cooper, who is leading the investigation, said: "It's now three weeks since Kelli was last seen and as time goes on we are increasingly concerned for her welfare.
"She was last seen in this area – she was seen on the bench in Castlegate during the afternoon of Wednesday the 10th and she was seen in Marischal Court a short distance away at about 4.45pm.
"Our last sightings have her in a local fast food shop about 6pm then going along Union Street, and she's last seen at 6.50pm in the area of the sheriff court as she enters the area under the current scaffolding.
"Our assessment is that she may have boarded a bus – either a 13 or a 15 – which would have taken her either to Seaton or to Footdee. The bus that goes to Seaton would have taken her to a bus stop directly outside her flat, but from the information we can gather she didn't return home.
"Our appeal is to find out from people who were on Union Street perhaps. We're trying to trace people who may have been there on the 10th and who may have seen her.
"She was very distinctive – she was quite disorientated, dishevelled, she may have looked intoxicated, and she was seen at one stage to virtually collapse. Members of the public were in the vicinity so people did see her."
Around a dozen extra officers were drafted in to assist with last night's inquiries and spoke to people waiting at city centre bus stops. A number of officers also travelled on bus lines trying to jog people's memories.
One man who spoke to officers on Castlegate said: "I didn't know Kelli, I'd only seen her about once or twice, but I hope somebody remembers something. It's a shame nobody is saying they've seen her, I hope someone comes forward."
Concerns have mounted over the health of Ms Ferris, and she is known to have spent ten weeks in hospital over the summer and relied heavily on medication.
Last week Ms Ferris' mother Catherine Sandison made an emotional appeal for her daughter to come home.
Det Supt Cooper said: "This has been an agonising three weeks for Kelli's family and they are understandably desperate for any information about where she may be."