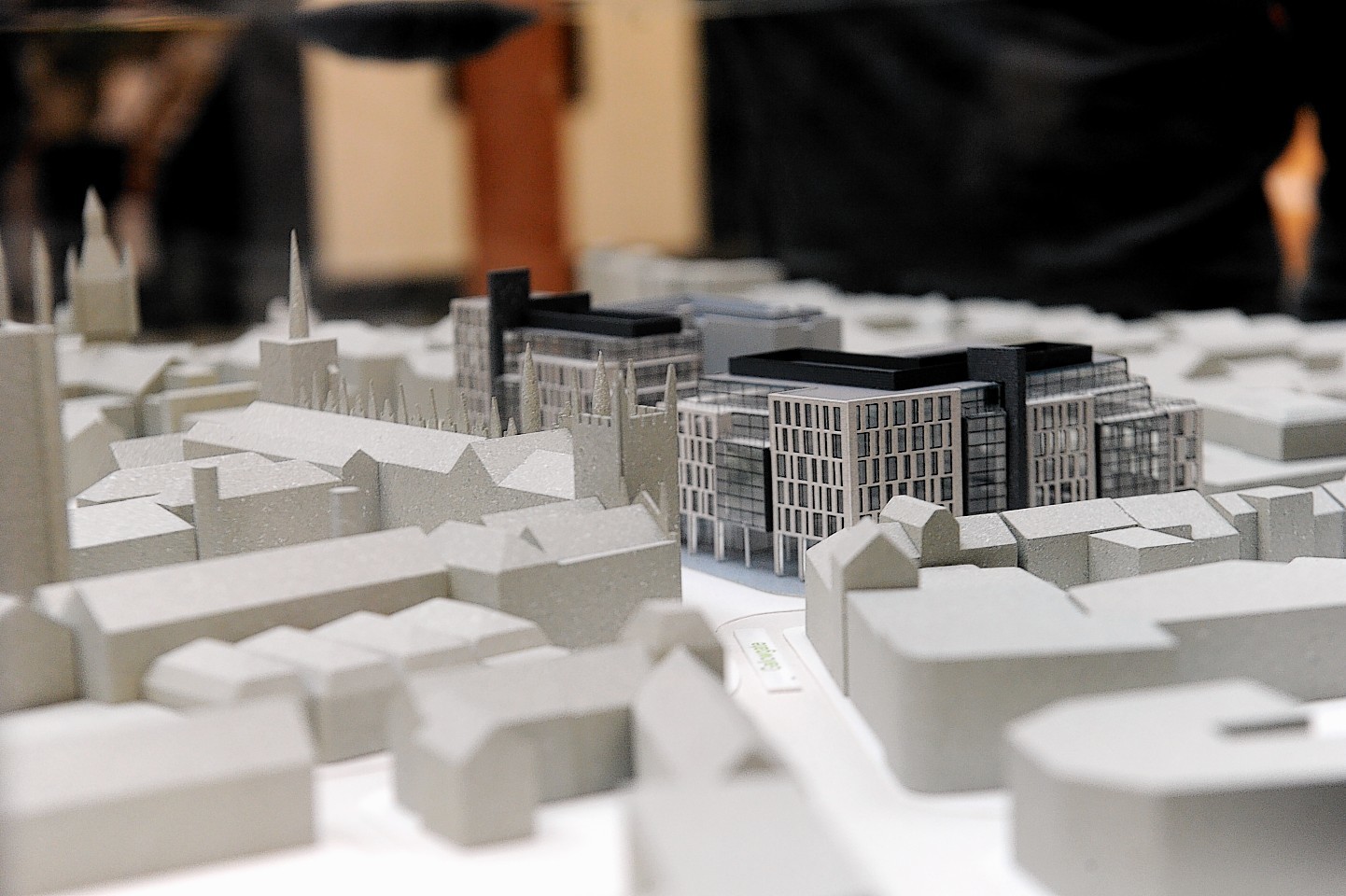 A petition signed by more than 1,390 people urging a rethink of controversial plans for Aberdeen City Council's former HQ was handed over to politicians yesterday.
Former university lecturer Lorna McHattie wants elected members to hold off on making a decision on the Marischal Square proposal when it is debated at full council tomorrow.
The application from Muse Developments Ltd, which is working with the local authority on the £107million scheme, would transform the old St Nicholas House site into a hotel, office and retail complex.
Mrs McHattie, 57, of Louisville Avenue, Aberdeen, has spearheaded a campaign opposing the project, which she believes will have a negative impact on surrounding A-listed buildings Marischal College, Provost Skene's House and Greyfriars John Knox Church.
Yesterday, she was met by deputy council leader Marie Boulton, Labour group secretary Willie Young, Conservative Ross Thomson and Liberal Democrat Jennifer Stewart. All parties on the council were represented bar the SNP, which said members were all in a group meeting at the time.
Mrs McHattie said: "If you look at the feedback on the days of the public consultation events, the final plans don't actually reflect what the public said.
"At every single consultation event, it was very clear that people want to see a clear, open view of Marischal College and Provost Skene's House."
Mrs Boulton, who also heads the three-member Independent Alliance Group, said: "All aspects will be given due consideration on Wednesday, that's all I can really say as we can't offer an opinion prior to the meeting.
"I'm always encouraged by participation by the public, it's part of the democratic process."
Mr Thomson, Tory ward member for Hazlehead, Ashley and Queen's Cross, said: "We need to bear in mind the views of our constituents and the wider public and I am sure that councillors will be doing that as they look at the application."
Mrs Stewart, councilor for Hazlehead, Ashley and Queen's Cross, said the petition showed there was a "significant" level of opposition to the plans among the public.
She said: "Without giving a view, what this petition reflects is that it is similar to the numbers who attended the public consultation, that was about 800 people, who expressed similar concerns.
"Those people could not take part in the public hearing, and their comments weren't taken as an objection to the proposed application."
Mrs McHattie, who wants to see a "low level, low density" development, has now applied to meet a deputation at the full council meeting – although that it is not usually permitted on planning applications.
Meanwhile, Aberdeen Central MSP Kevin Stewart has raised concerns about the way in which the application has been handled. The Muse bid by-passed the council's planning development management committee after a public hearing was held on August 29.
There was also anger from opposition members when a report to councillors said that pedestrianisation plans for Broad Street could no longer be considered as part of the application.
Mr Stewart wrote to chief executive Angela Scott, who said an officer report on traffic was "not completed on time".
She also said, however, that a decision was taken by committee convener Ramsay Milne to refer the application to full council rather than consider it at a meeting of the planning committee.
Mr Stewart said: "This is a controversial application and yet it seems that it is being dealt with in a way, which is confusing to the public and fails to be wholly transparent.
"People's perceptions are that the rules keep being changed without a full explanation and the decision to send the application directly to full council and then to remove the matter of the pedestrianisation of Broad Street from it have angered many."