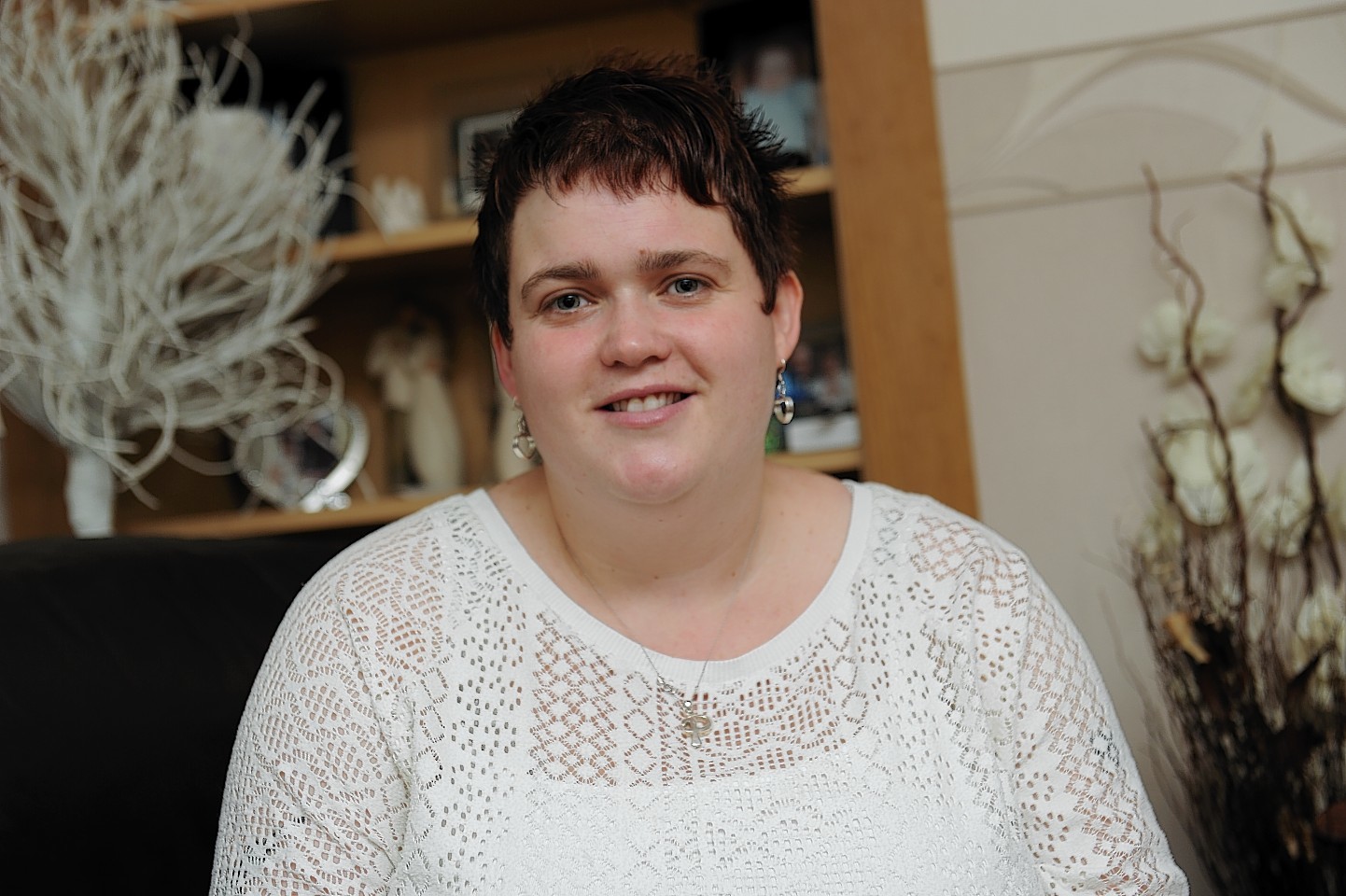 A mother-of-four is still facing a daily battle back to health – six months after she was hit by a car outside her home.
Pauline Thomson was airlifted to hospital with a fractured skull and bleeding on her brain and has been left suffering from speech problems, memory loss and mood swings.
She had spent a morning watching her six-year-old son open his birthday cards, before popping out to pick up a message.
But she had only got yards from her home in Huntly's Bogie Street when she was knocked down.
The 33-year-old was flown to Aberdeen Royal Infirmary and her husband Steve was left fearing the worst as he made the frantic dash from his work in Kintore.
Mrs Thomson spent two weeks in hospital, but six months on from the accident, she suffers from dizziness and headaches nearly every day.
She also struggles with amnesia and speech problems, and never knows what her mood will be like from one day to the next.
She often has to escape to her bed to get away from everyday irritants – such as noise.
She said: "I know when I get up what kind of day it's going to be. But I've gone from being a lively, bubbly person to someone who can be shouting, swearing and really snappy, and feeling so low I'm crying all the time. I actually have to go to my bed, which is very hard with four children."
Doctors wanted Mrs Thomson to stay off work for a year, but she decided to go back to her job at Asda three months after the accident as she was scared she would forget what to do.
She said: "I have a short memory now, so didn't want to stay off my work.
"They all know about my moods, but I try to stay on the self checkouts now so that if I'm having a bad day I don't have to have too much to do with the customers.
"People think because I'm back at work I must be fine, but they've got no idea what I go through or how I feel every day.
"The doctors don't know how permanent the damage is. Because it's so severe, it could last a year, or it could last a lifetime."
Mrs Thomson only remembers fading in and out of consciousness after the May 7 accident, but her mother Anna Rowley can recall it all only too well.
Mrs Rowley said: "She had just left, so when the hairdresser knocked on the door I said it couldn't be her. I went out there in my slippers, I just couldn't believe it.
"I'd never seen an accident before, and seeing Pauline lying there was terrifying."
She went to the school to pick up grandsons Blake, 10, and Blair, eight, while family friend Jan Hamill stayed with Mrs Thomson's other two children, Archie, six, and Beth, four.
Mrs Thomson, who is still having regular scans and checks at the hospital, added: "Archie was poorly so he was at home, and Beth was here too. I normally always have my kids with me, but I'm so glad I didn't that day. There's no way they would still be alive."
As well as her ongoing health problems, Mrs Thomson said the accident had left her frightened when she goes out, and that it took her weeks to be able to walk down the road where the collision happened.
"I'm scared of the traffic. I can handle certain roads, but I'm scared that I don't come home again," she said.
Mrs Thomson thanked her friends and family for their support during her recovery, including her colleagues at Asda, who held a collection for her.
"I'm so grateful that I made it, and I'm so lucky," she said.
"But I've got to continue like this every day. People find it hard to understand because I look fine and like I'm back to 'normal', but what's going on in my head isn't normal."
A 57-year-old woman has been reported to the procurator fiscal in connection with the incident.
A Crown Office spokesman said: "The procurator fiscal has received a report relating to an incident involving a 57-year-old woman said to have occurred in Huntly on May 7.
"The report remains under consideration by the procurator fiscal."