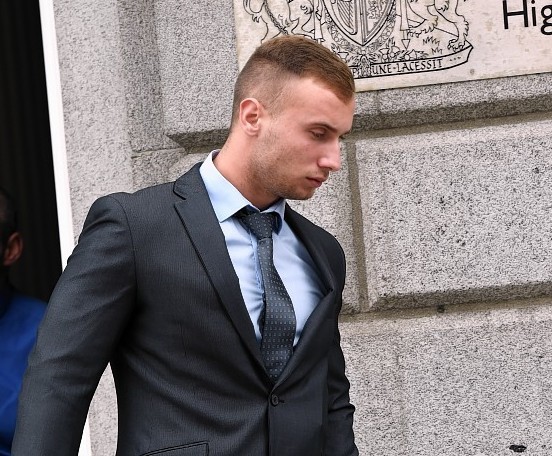 A driver accused of killing a teenage student by driving carelessly on a busy north-east road was acquitted yesterday.
Nineteen-year-old Benjamin Land died in hospital a week after he was hit by Christopher Huntington's black Vauxhall Corsa on the A944 Aberdeen to Westhill road.
Huntington, 21, had been on trial at Aberdeen Sheriff Court, accused of causing the early morning accident by failing to pay attention to the road in front of him.
Yesterday jurors took just over 30 minutes to unanimously find the charge against him not proven.
However, he was convicted of driving carelessly on the same road more than a year after the fatal crash.
Huntington was fined £600 and his licence was endorsed with six penalty points.
The trial heard Mr Land had been dropped off at a temporary bus halt about eight minutes before the impact.
Although toxicology tests showed the teenager had been under the influence of alcohol, the taxi driver who dropped him off said he appeared sober.
Huntington said he saw no sign of the pedestrian until he hit the front windscreen of his car.
The court heard the joiner panicked and drove on until he could find a safe place to stop.
When he returned to the scene Mr Land was lying motionless in the middle of the carriageway and was being attended to by another motorist who had stopped to help.
The teenager was taken to Aberdeen Royal Infirmary but the impact had been so severe he could not be saved.
A postmortem ruled he had suffered serious brain damage as a result of the collision.
Giving evidence during the trial an emotional Huntington, of 13 Westfield Gardens, Westhill, broke down as he described the moment he realised he had hit someone in "pitch black" conditions while major roadworks were taking place.
The court heard that, due to the darkness of the road and the presence of traffic cones, Mr Huntington had been "dazzled" and was only able to see what was in the immediate lane in front of him.
He said: "I only knew I had hit someone when he came through the windscreen. I just went into shock and panic."
Addressing the public gallery following the verdict Sheriff Annella Cowan said: "The sympathy of the court as always goes to the family who has lost a loved one. Nothing can be done to adequately repair the damage caused but this is now the end of the criminal matter."