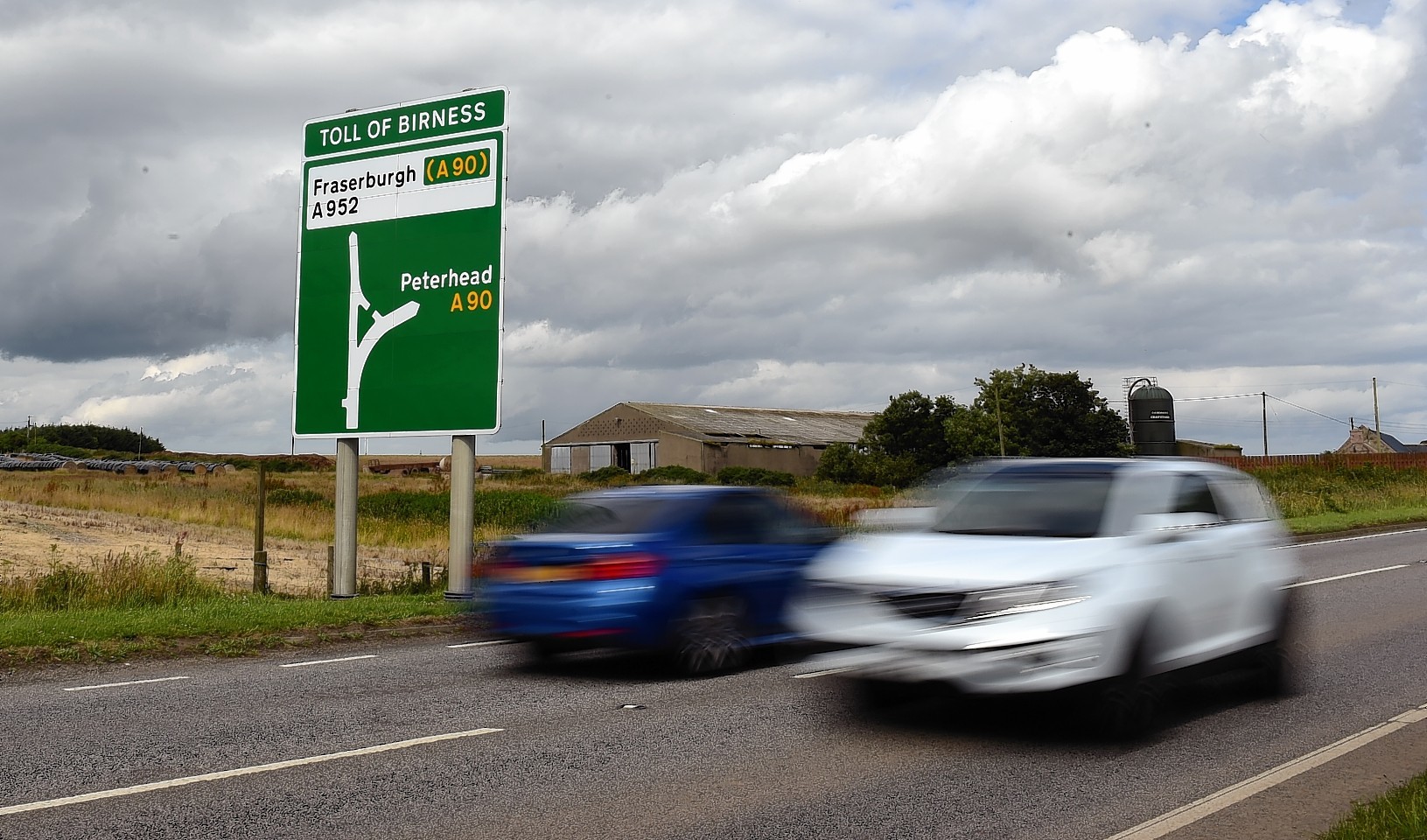 Five people were caught hitting speeds of 100mph and more on the north-east's busiest road during a police crackdown.
The four car drivers and one biker were among scores of motorists snared in the operation on the Peterhead-Aberdeen stretch of the A90.
Last night, safety campaigners said they were shocked by the speeding statistics on the commuter route.
But there were also fresh calls for the road to be dualled between Ellon and Peterhead.
The male car drivers caught at speeds ranging from 100mph-103mph were aged 23, 25, 29 and 55 and the biker was a 29-year-old man
All five have been reported to the procurator fiscal.
As part of Operation cedar, more than 100 vehicles were stopped and 62 drivers – the youngest aged 19 – were reported or warned.
Sergeant Steve Manson from the roads policing team said he was disappointed to catch so many drivers breaking the law.
He said: "The majority of these offences were detected during the morning commute when the roads are particularly busy.
"Some of the drivers were travelling at particularly high speeds and it goes without saying that a collision at these speeds is likely to result in serious injury or a fatality."
Ellon councillor Gillian Owen, who has been a driving force behind the campaign to dual the A90 from Ellon to Peterhead, described the drivers in question as "ridiculous".
"I'm horrified to see the statistics for speeders on the A90," she said.
"There is absolutely no excuse for those speeds, on this or any other road.
"It is not so much the damage they could do to themselves but to innocent bystanders."
But Mrs Owen also said the alarming results of the operation underlined the need for upgrades to the road.
She said: "Dualling the road would significantly help the flow of traffic and reduce the amount of frustration suffered."
A spokesman for road safety charity Brake said there should be harsher penalties for driving offences.
He said: "Speed limits exist for a reason and drivers who break them – by a little or a lot – are taking a big risk, putting themselves and other road users in danger.
"The greater the speed, the greater the consequences of any mistake.
"It's clear tougher sentencing is needed to deter law-breaking drivers."
And Sandy Allan, chairman of the Buchan Community Safety Group, said: "I'm glad to see it's being cracked down on but it is an ongoing problem.
"It's a route busy with trucks, tractors and all manner of vehicles.
"That speed is excessive on any road and it's good they are targeting drivers who are a danger to themselves and others."
The alarming results of this week's crackdown were unveiled after two north-east teenagers were spared a ban for driving at over 90mph.
Grant Smith and Jamie Richardson appeared at Peterhead Sheriff Court after they were caught speeding on the A98 Fraserburgh-Banff road.
Although the sheriff described their behaviour as "ludicrous", the pair kept their licences and were fined £900 each as well as being five penalty points.
Of the 100 drivers stopped as part of Operation Cedar on the A90 this week, a total of 38 were caught speeding.
A further four were dealt with for careless driving, including tailgating and undertaking.
A police spokesman said five were stopped for using mobile phones at the wheel, two were reported and had their vehicles seized for driving without insurance, three motorists were stopped for not wearing a seatbelt and two were caught driving without valid MoTs.