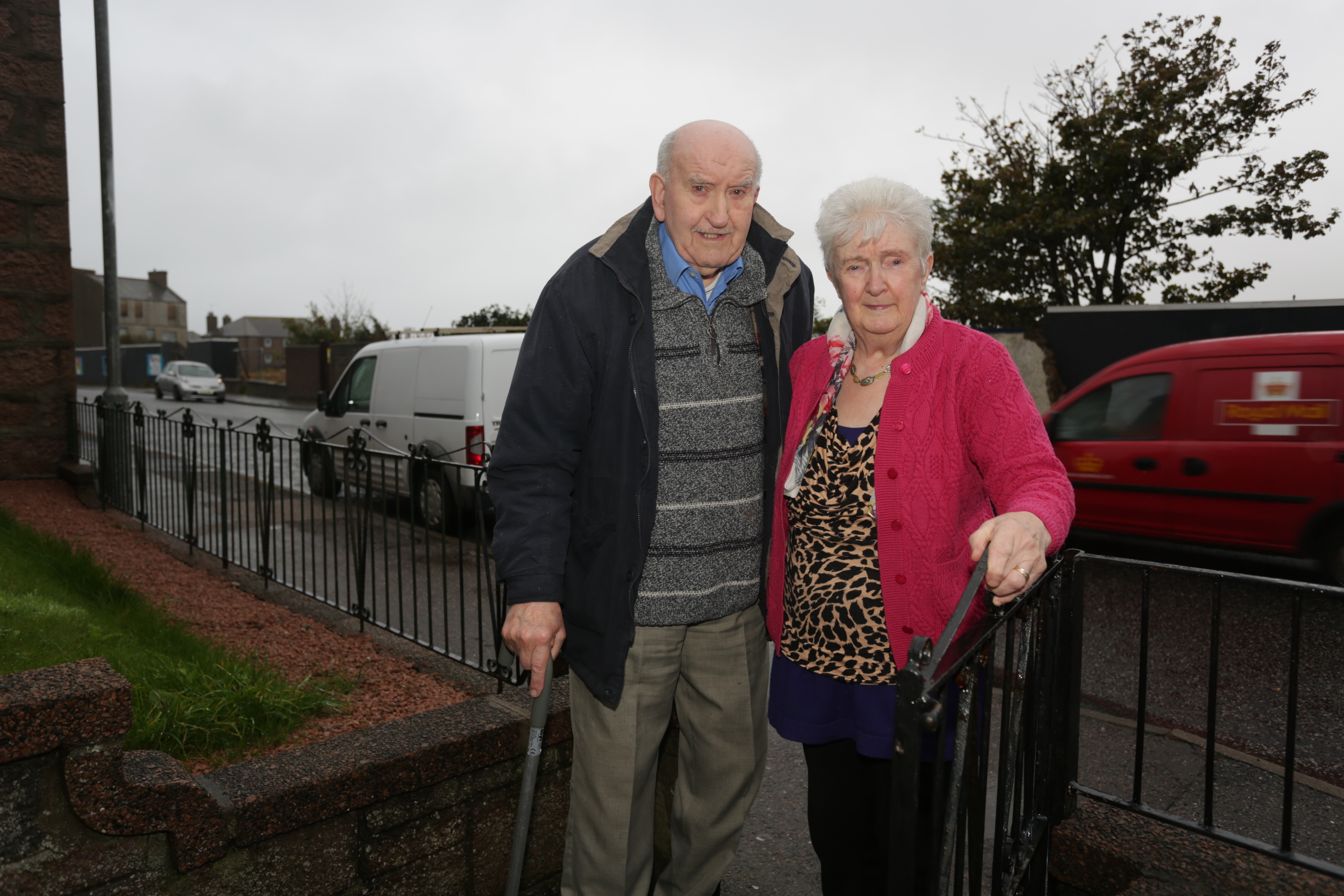 Two north-east pensioners have taken a stand against a supermarket giant over fears they will become prisoners in their own home.
Albert and Agnes Giulianotti were delighted to discover derelict land outside their Peterhead home would be transformed into an Aldi outlet.
But when developers revealed the busy entrance to the store's car park would be opposite their driveway, the couple – who suffer from mobility problems – feared they would be housebound permanently.
They have now submitted a raft of objections from neighbours to the German firm.
Last night Mrs Guilianotti said she fears for her safety when pulling onto busy Kirk Street.
"It's actually frightening, and that's now," she said. "It will be an awful lot worse if this goes ahead. There could be cars and delivery lorries pulling in and out of there through the day and night."
But the 77-year-old refuses to be driven from the home she has lived in for more than a decade, and said: "It's going to seriously affect the elderly people across the road, and we're not going away."
Her husband, a former RAF engine fitter whose family owned an Aberdeen ice cream business, said he was not opposed to the development of the eyesore site which lies only yards from their front door. However he pleaded for the layout to be reconsidered.
"We depend heavily on our transport because we are unable to carry heavy loads and understandably have limited capability to walk considerable distances without the use of a walking stick or stability aid," the 80-year-old – who has undergone surgery to replace his hip and his knee – said.
The blue badge holder said the store could be a "blessing in disguise" for the neighbourhood if handled properly, but feared it could become a "big black hole taking every vehicle imaginable across the road".
Aldi has now sought to reassure Kirk Street residents in the wake of the serious concerns raised about the development.
A spokesman said: "The proposed site access on Kirk Street is the same access for which there is a planning consent already granted by Aberdeenshire Council.
"There is no need to change any of the existing on-street parking arrangements including that of the designated disabled space Aldi is happy to allay these concerns of local residents."
Not alone…
Neighbours of the Giulianottis have also submitted objections to Aldi surrounding the access to the long-awaited supermarket.
In his letter, fellow Kirk Street resident James Adamson echoed their concerns.
He said: "Customers and delivery lorries will in my opinion add to the congestion and I certainly do not want cars and lorries queuing up right in front of my door."
And while Brian Maclean stressed he was glad to see Kirkburn Mill being developed "at last", he also had concerns about the heavy goods lorries passing by and potential parking restrictions for residents of the the street.
He wrote: "Having lorries turning off and on to the existing busy street gives cause for concern. Does this mean that the residents on this section of Kirk Street are eventually going to have parking restrictions at their properties?"
He added: "I would like to suggest that the proposed entrance is seriously looked at again."
The long-awaited development of the site at the entrance to Peterhead's town centre could create up to 35 jobs, and pave the way for a second store on the site.
Aldi first bought the old textile mill in 2008, but despite plans for a branch on the empty ground near Kirk Street, no construction has taken place and many regard it as an eyesore.
Last month it was revealed that developers had discovered hazardous asbestos on the site, and were working with Aberdeenshire Council on "remediation methods".