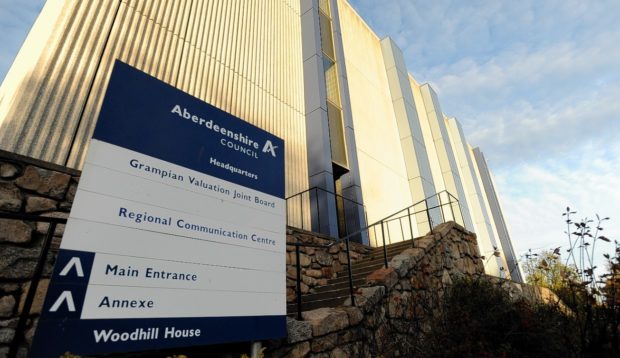 Aberdeenshire Council's Woodhill House headquarters could be sold to NHS Grampian, the Press and Journal can reveal.
A row broke out over the future of the council's civic centre last week after the SNP-led administration proposed selling off the Westburn Road site to cut costs.
Now it is understood the north-east health board – whose flagship hospital neighbours the Westburn Road site in Aberdeen – could have first refusal on any sale.
Liberal Democrat councillor Fergus Hood said the agreement stems back to a full council meeting in November 2008 when then council chief executive Alan Campbell asked members to agree a "right of pre-emption" with the health board.
Mr Hood said: "There was a paper about Woodhill House and it was in there that councillors voted through an option for NHS Grampian to have first refusal of the site should it come to market."
Another council source added that the deal was "potentially possible, given NHS own all the land around here".
Mr Hood added that he was doubtful whether NHS Grampian – in light of a £150million redevelopment of their neighbouring Foresterhill site – would have room in its budget to buy Woodhill House.
Last night, Conservative councillor and former council leader Jim Gifford said his administration looked into selling the local authority's HQ 18 months ago but that the business case "no longer stacks up".
He added: "As part of that discussion there was speculation NHS Grampian could have first refusal. It just adds to the confusion of the situation."
One administration councillor, who did not wish to be named, said: "There are still questions in many people's minds about how firm an option that is. Even if the health board were interested everything comes down to budgets."
A spokeswoman for NHS Grampian echoed those thoughts and said it was "highly unlikely" given the ambitious plans to revamp Foresterhill.
She said that any first refusal option would be taken up if Woodhill House was put up for sale imminently.
A spokesman for Aberdeenshire Council added that the authority was not in a position to discuss commercial business.
Aberdeenshire Council is the only local authority in Scotland with a civic centre outside its jurisdiction.
Property experts estimate Woodhill House could be worth up to £21million.