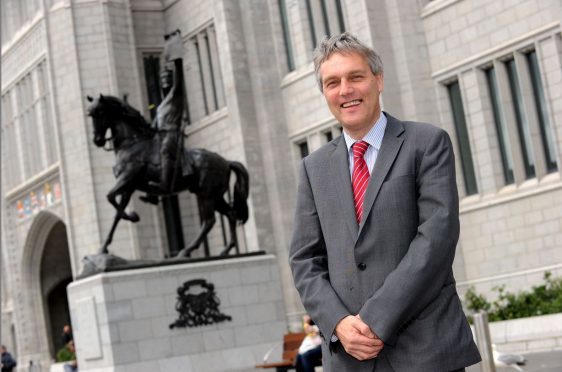 Aberdeen City Council's increasing spending on outside consultants and agency staff has come under furious attack from a taxpayers' pressure group.
The authority spent £187,271 on corporate governance consultants, who help run financial and HR aspects of the council, in August which increased to £309,676 last month.
Over the same period, spending on corporate governance agency staff rose from £58,864 to £101,615.
But last night, the city's finance chief said that a predicted underspend of around £2m in the budget will cover the costs.
It is believed the extra spending has gone towards new staff for the city centre masterplan.
A total of 49 schemes are included in the blueprint, including the pedestrianisation of much of Union Street, an expansion of Union Terrace Gardens, a new footbridge over the River Dee, and revamps of the city's shopping centres.
It was voted through unanimously by councillors of all parties in an unusual display of unity in June.
Last night, a furious Eben Wilson of Taxpayer Scotland called on council chiefs to rein in spending.
He said: "Grand designs by central planners always see our tax money swallowed into deep dark holes on fine words and unknowable actions.
"That so much has already been spent on second-guessing the future is deeply concerning. Every pound takes away the incentive for ordinary private businesses, artisans and others to discover for themselves what might work best for Aberdeen.
"The size of the spend on agency, and the increase in such a short time, suggests that this council is overreaching itself – surely there are existing staff who could do this work?"
Last night, finance convener, Willie Young, said that the predicted council underspend would pay for the extra costs.
He said: "We obviously try and spend as much of our budget as possible, but there are times when we can't recruit staff for whatever reason.
"For instance we haven't had a city centre manager for ages, so we have been saving on a salary there.
"If you want a masterplan, and I think people do, then you have to do the work."
Vice convener Ross Thomson added that the masterplan would be worth the money.
He added: "Given the struggles to recruit public sector staff in the north-east economy, it's inevitable we'll look to agencies sometimes.
"I think it's worth the cost for providing good public services."