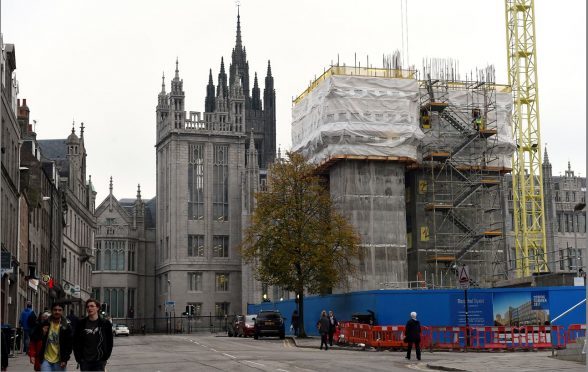 The Marischal Square project will use 180 tonnes of the rock synonymous with the Granite City – imported from China.
The development is directly opposite the second-largest granite building in Europe, Marischal College.
But it has emerged the £107million scheme will not include any locally-sourced stone, despite council chiefs using granite from Kemnay for the £65million redevelopment of the college in 2011.
Instead, the rock will make the journey from the Far East to the north-east by ship, and is expected to arrive at Aberdeen harbour in the spring.
Last night protestors and opposition politicians reacted with fury to the revelation, on the day Aberdeen Central MSP Kevin Stewart's motion on the council's financial handling of the development was heard in Holyrood.
Leading critic Bill Skidmore, of the Reject Marischal Square group, said: "Importing cheap Chinese granite for a building opposite the magnificent Marischal College is sacrilege and adds insult to injury."
SNP councillor Graham Dickson – who voted against the development – agreed.
He said: "This is another huge disappointment from Marischal Square – not only are we getting an eyesore but it won't even contain local materials."
Randald Rennie, of local granite supplier, A&J Robertson Granite, asked why the council was not considering using reclaimed granite from demolished buildings.
He said: "I think they should have looked at using reclaimed granite from the design stage.
"It may have cost a little more but it would have been much more in keeping with our heritage."
However, another local granite merchant said importing the stone from China made economic sense.
John Forbes, of Bon Accord Granite, said: "What people don't understand is that we haven't built a major building out of north-east granite for the last 30 years at least.
"It's down to price at the end of the day – if I don't supply Chinese granite then others will."
A Muse Developments spokesman said that following an "exhaustive tendering process", it was decided that granite for the Marischal Square development would be sourced from China under license to Tiles International.
A council spokesman said the sourcing of materials was a matter for the contractor.