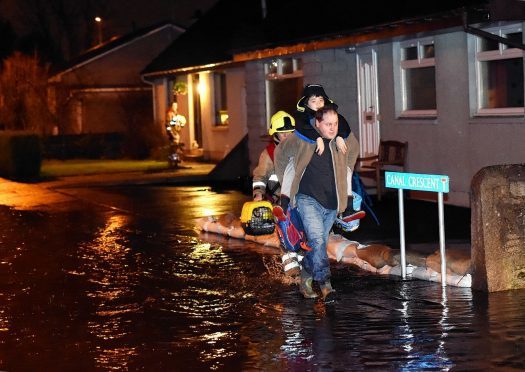 Residents were warned to get ready to flee their homes in north-east towns and villages last night as horrendous weather continued to batter the region.
In Inverurie people placed sandbags outside their doors and braced themselves for a second evacuation this week as the River Don rose again and flooded nearby streets.
On Monday night, residents were forced to leave the Port Elphinstone area and were offered accommodation at nearby Inverurie Academy.
Jenny Moffat, who lives on Canal Crescent near the river, had to leave her home earlier this week.
"On Monday night I was coming home and saw water rising from the river bank," she said.
"It had come all the way through to the street and was two to three metres up. It started coming up underground and so we were asked to leave.
"Some people were moved to Inverurie Academy but I have a friend who lives uphill.
"I was told by my work manager at Tesco that the area was flooding again and it's the same problem.
"I'm not sure if I will have to leave again but if I'm told to I will have to."
Alford was also under siege from the rain.
Allan Gordon, managing director of hardware store Gordon's of Alford, was forced to send staff out in the afternoon to sweep water away from the front of his store.
He said: "At around 3pm the water started coming on and it has been a continuing effort to keep it out.
"The council has been laying on sandbags and to give them some credit, they are trying their best."
Last night deputy first minister John Swinney, who visited Ballater last week to see the flood damage for himself, urged people to keep up to date with information from SEPA and Traffic Scotland.
"The situation in Kintore, Inverurie and along the River Don in particular is extremely serious, with severe flood warnings now in place," he said.
"The impact of this latest round of flooding is causing transport difficulties and putting properties at risk of flooding.
"The Scottish Government's resilience committee is monitoring the situation very closely and we have discussed the unfolding events and work to mitigate the impacts and ensure the safety of people in local communities.
"People in affected areas should keep a close eye on the latest information from SEPA and Traffic Scotland and take heed of the warnings that are issued."