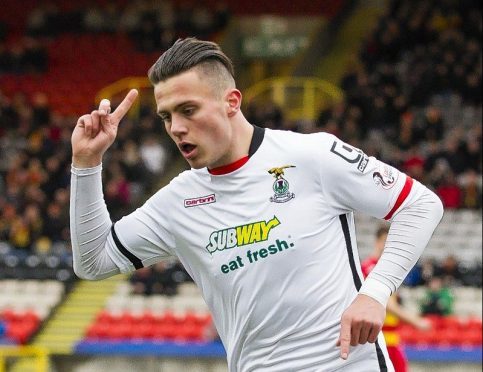 Caley Thistle forward Miles Storey says he has been forced to delete a social media account due to internet trolls who threatened to scupper the extension of his loan deal from Swindon Town.
Storey, who is Inverness' leading scorer with eight goals this season, handed Caley Jags a massive boost this week by agreeing to extend his temporary deal from the English League 1 club until the end of the campaign.
The 22-year-old was taken by surprise, however, when he discovered his twitter account had been hacked by a supporter, purporting to be him, who posted online messages criticising Swindon in the wake of the move.
It is understood Swindon chairman Lee Power took issue with the messages and even threatened to pull the plug on Storey's deal to stay in the Highlands, before the attacker explained the situation.
After deleting his online account, Storey says he now has peace of mind and can now focus on continuing his scoring streak for Inverness.
Storey said: "It's annoying because there's nothing I can do about it. I've tried to do everything – I've changed all my passwords, emails and login verifications.
"But there are some clever people out there who have a lot of time on their hands. It always happened at about 2am in the morning. I'll get up at 7.30am to come here, so it's not me.
"I've deleted it now so there's no chance that anything can come to that again. I won't be waking up to the backlash of something that's been said overnight.
"It's strange. I don't know who it is – whether it's a rival team or a Swindon supporter – but it makes me look bad. I don't think sometimes people realise how bad it can make people look and how it can change their situation. There are going to be people out there believing I'm actually posting that, which is understandable.
"I like Twitter because if I have a good game, people tell me, and if I have a bad game people tell me. It's nice to have the feedback.
"All the lads interact on it, so it's a shame I've had to come off. I just think it's for the best."
Storey says he has no bitter feelings towards Swindon, for whom he has made 37 appearances, scoring on six occasions, since making his debut in September 2011.
The attacker added: "I've been at Swindon since I was 16. I'm 22 now, so that's a long time with a club – it doesn't happen a lot.
"I know a lot of the time I've been out on loan but even then I'm still looking at Swindon's fixtures and who they're playing.
"I want to know how they're getting on and I want them to do well."