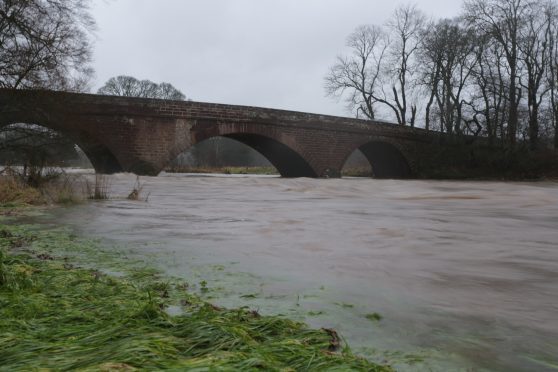 Residents in Turriff were last night waiting for its river to burst its banks.
The River Deveron bridge was closed by council officials around 8pm amid fears the water would overflow following an evening of persistent and heavy rain.
The local golf course remained closed throughout the day after becoming waterlogged earlier in the week, while traffic was slow moving through the town centre due to standing water in and out of Turriff.
The river had swamped the local angling club's fishing spot by yesterday afternoon, while the water rose beyond 7ft high to hide the cement bases of the Deveron Bridge.
Frank Henderson, owner of Turriff Tackle and Trophies said: "On Monday the river was only about 10ft high, so we're not overly concerned at the moment. It will be bigger than on Monday, though.
"We've seen it all before – 2009 was when it last burst its banks – but Turriff should hopefully be fine.
"Our concern is the tourism with the fish. The fishing has been bad for the last two years and if we get too much water it could have an effect for the next three to five years of stock."
Richie Miller, director of Deveron, Bogie and Isla Rivers Charitable Trust, urged locals to take advice from SEPA on flooding risks.
He said: "There is the potential that the lower river around Turriff could flood substantially.
"It's on course for the River Deveron to be higher than Monday's peak. The golf course and the area around there is prone to flooding."